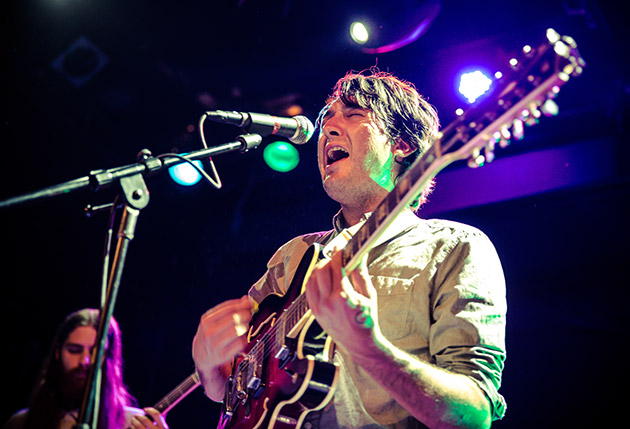 [photos courtesy of P Squared Photography]
Mikal Cronin is a master of power pop, combining the Big Star sound with punk's rawer side. His latest for Merge Records, MCIII, finds the Ty Segall affiliate more in the "pop" camp than ever, with spit-shined production and chorus after chorus that you can't forget. This show at Bowery Ballroom celebrated the release of MCIII, but found Cronin skipping around his catalog, everything from the MCII favorite "See It My Way" to "Apathy", "Green and Blue" and others from his debut.
Since we last saw him at Hopscotch in 2013, Cronin has grown even more comfortable at center stage, commanding the sold-out house throughout the night. The new album is an evolution for Cronin, taking him further from the fertile San Francisco garage-rock camp from which he came and further into music's most accessible realms, and it seems to be working for him. Perhaps the strongest performance came mid-set, when "Feel Like" caught everyone's ear. It's a straightforward song both musically and lyrically, and it's also impossible not to hum for days after. This music practically screams to be heard at summer festivals, in car stereos, at lake- and beach-houses. And, I suspect it will be.
I recorded this set with Schoeps MK41V supercardiod micrphones and a soundboard feed from Bowery's very own Kenny. The sound quality is excellent. Enjoy!
Download the complete set: [MP3] | [FLAC]
Stream the complete set:

Mikal Cronin
2015-05-05
Bowery Ballroom
New York, NY USA
Exclusive download hosted at nyctaper.com
Recorded and produced by acidjack
Schoeps MK41V (LOC, PAS)>KCY>Z-PFA>Aerco MP-2 + Soundboard (engineer: Kenny)>>Edirol R-44 [oCM]>2x24bit/48kHz WAV>Adobe Audition CS 5.5 (align, mix down, fades)>Izotope Ozone 5 (effects, EQ)>Audacity 2.0.3 (track, amplify, balance, downsample, dither)>FLAC ( level 8 )
Tracks [Total Time: 1:01:56]
01 Turn Around
02 Made My Mind Up
03 Apathy
04 Am I Wrong
05 Say
06 Feel Like
07 Weight
08 Get Along
09 Control
10 Shout It Out
11 See It My Way>
12 ii) Gold
13 Circle
14 [encore break]
15 Change
If you enjoyed this recording, PLEASE SUPPORT Mikal Cronin, like him on Facebook, and buy MCIII directly from Merge Records.