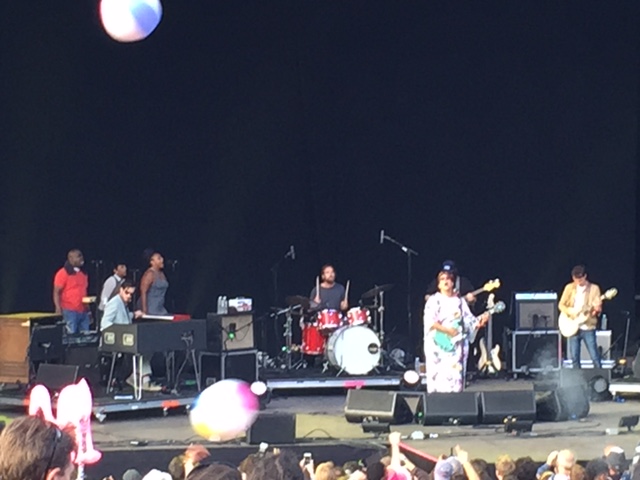 It made good sense for Alabama Shakes to end this year's Mountain Jam, as they ended it on the highest of notes.
By the time you had sat through three or even four days of this year's festival, you might be forgiven for wondering if anything happened musically in this country since 1972. With exceptions, there were far too many "me-too" bands so slavishly devoted to their heroes that they could only impress the crowd by covering well-known songs by bands superior to them. Consider some of the headliners: Friday, a washed-up warhorse from a legendary 70s act was followed by … a band covering Dark Side of the Moon and other Pink Floyd songs. Saturday, a knockoff of a band from the late 90s-2000s played its bloozy bar rock songs best known for their hard-hitting impact on TV commercials and the opening credits for an HBO sitcom. Just before that band came on, the act before them played a bunch of Beatles and John Lennon songs.
Alabama Shakes could have been nothing more than a "me too" band, and would have been a striking one. There's no question that Brittany Howard's vocal style owes a debt to Etta James, Janis Joplin and several others, but what Howard and her band have accomplished with their second album, Sound & Color, moves them firmly into a different class. The band has taken the pieces they already had — a love of classic rock and soul, a cohesive unit, and a frontwoman with an earth-shaking voice and the presence to match — and used them to create daring new songs that push the conversation forward. It's not an accident that one of the best songs played at this show, "Future People," uses the word future. Over and over again, Alabama Shakes' latest work keeps proving that they want more — particularly the fellow new album tracks "Sound & Color" and "Don't Wanna Fight." Maybe some people were comfortable adding the Shakes to their Spotify playlists of retro sounds and leaving it at that. The Shakes were not. The Shakes — a working-class band from rural Alabama who only made it onto this stage by working like hell — took a risk.
It's widely known that the Shakes began life as a cover band, covering 70s standards in local bars. Here, in front of tens of thousands splayed across a mountainside, Howard paused late in the set to thank the crowd for giving the band the opportunity to do what they loved doing. Their last album pulled down three (losing) Grammy nominations. If there's any justice in the world, this album ought to win one. By the way, in a rare bit of commercial justice, Sound & Color debuted at #1 in the United States. Alabama Shakes are a cover band no more.
hi and lo and I recorded this set with Schoeps MK4V cardiod microphones into an EAA PSP-2 high-end analog preamp. The sound quality is excellent. Enjoy!
This recording is hosted on the Live Music Archive. Check out its page here.
Download the complete set: [MP3] | [FLAC]
Stream the complete set:

Alabama Shakes
2015-06-07
Mountain Jam, East Stage
Hunter, NY USA
Hosted at nyctaper.com
Recorded by hi and lo and acidjack
Produced by acidjack
Schoeps MK4V (PAS)>custom cables>EAA PSP-2>Roland R-26>24bit/44.1kHz WAV>Adobe Audition CS 5.5 (fades, limit peaks)>Izotope Ozone 5 (EQ, effects)>Audacity 2.0.5 (track, amplify, balance, dither)>FLAC ( level 8 )
Tracks [Total Time: 1:38:00]
01 Rise To the Sun
02 Future People
03 Hang Loose
04 Always Alright
05 Shoegaze
06 I Ain't the Same
07 I Found You
08 Guess Who
09 Heartbreaker
10 Miss You
11 The Greatest
12 Gimme All Your Love
13 Be Mine
14 Joe
15 On Your Way
16 Dunes
17 Gemini
18 [encore break]
19 Sound & Color
20 Don't Wanna Fight
21 Over My Head
22 You Ain't Alone
If you enjoyed this recording, please support Alabama Shakes, visit their website, and buy their records in their online store.