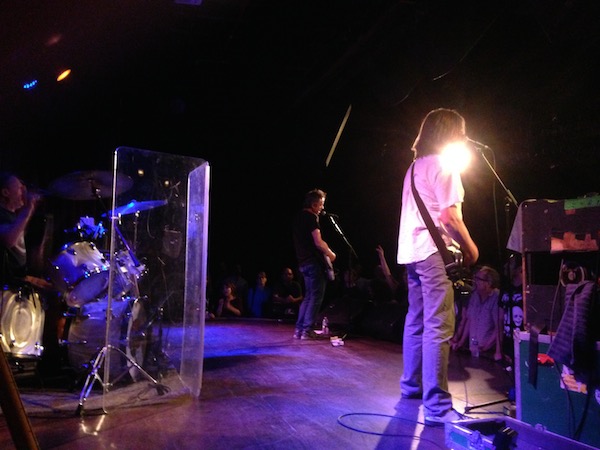 It's hard to believe that after a twenty-year hiatus, Mission of Burma have been back for thirteen years. Ever late to the party(y), I didn't see the band live until 2009 at one of Jelly's Pool Parties at the Williamsburg Waterfront. (Remember those!) Early the next year, I did my second Burma show right, traveling up to Boston to see them on their home turf at the Paradise. And I swear there's an extra special energy in the air when they play that venue. Now, five years later I've just seen my sixth Burma show, though honestly it feels like my sixteenth. What keeps me coming back—besides always being a damn good time—is the setlists. Each time you get a slightly different picture of the band depending on song choices which appear to change nightly. Their most recent show from The Bell House covers nearly their entire career and looks forward as well with two new songs that have premiered within the last year: "Panic is No Option" and "Buzz My Soul." The band also plays nearly all of Signals, Calls, and Marches, balanced with a few off their first full-length Vs., one each off of The Obliterati and The Sound, The Speed, The Light, and a few from last year's Unsound. Add a couple of the post-Vs. 80's songs ("He Is/She Is" and "Nu Disco"), plus the crowd favorite anthem, "Academy Fight Song," and you've got a Burma gig for the ages.
I recorded this set with the AKGs clamped to the soundboard railing. The sound quality is excellent. Enjoy!
Special thanks to The Bell House team for being instrumental in making this recording happen.
Download the complete show at the Live Music Archive.
Stream the complete show:

Mission of Burma
2015-06-26
The Bell House
Brooklyn, NY
Recorded and produced by dynamicalories
AKG C480B/CK63 (FOB, ROC, PAS) > Roland R-26 > WAV (24/48) > Adobe Audition CC (balance) > Izotope Ozone 5 (EQ, exciter) > Audacity 2.0.5 (amplify, fades, downsample, dither, tracking, tagging) > FLAC (16/44.1, level 8)
Tracks [01:12:14]
01. Secrets
02. 2wice
03. Let Yourself Go
04. Panic is No Option
05. Buzz My Soul
06. Nu Disco
07. Mica
08. Outlaw
09. This is Hi-fi
10. Sectionals in Mourning
11. Feed
12. He Is/She Is
13. 7's
14. This is Not a Photograph
15. Red
16. That's How I Escaped My Certain Fate
17. [Encore Break/Tape Loops]
18. The Ballad of Johnny Burma
19. Academy Fight Song
20. All World Cowboy Romance
Support Mission of Burma: Website | Facebook | Buy records and merch through their online store