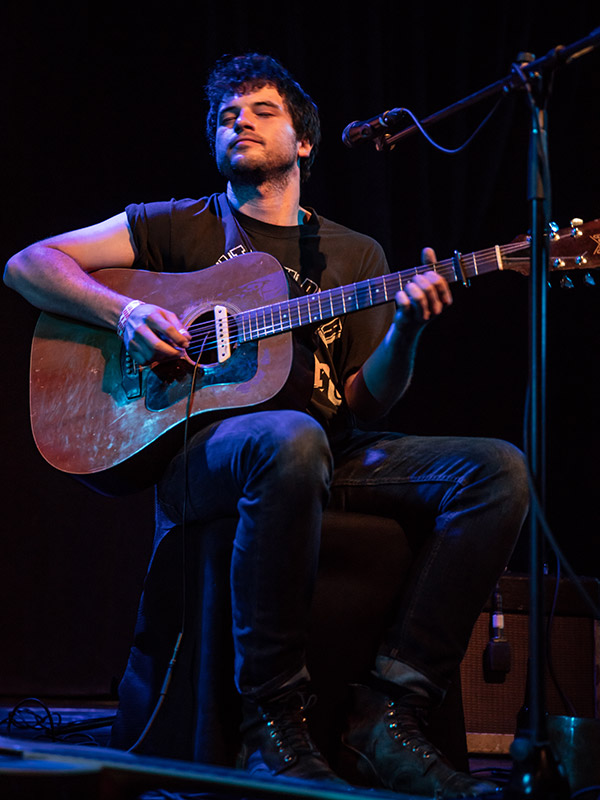 [photos by P Squared Photography]
Ryley Walker has been a can't-miss for me on every single tour that has taken him through New York this year, the latest being this date at Le Poisson Rouge with Jessica Pratt. What is so remarkable about the five performances we have covered since September of last year is that every single one has been different, including the cast of performers. While Ryley's a redoubtable solo artist, where he truly shines is in his ensemble, consisting of Chicago-based jazz artists who've played with Ryley on and off for years. On this night, he not only had the full compliment of  his "regular" players, with Ryan Jewell on drums, Ben Boye on keys, Brian Sulpizio on electric guitar, and Anton Hatwich on bass, but also a horn section consisting of Levon Henry on sax and Jamie Branch on trumpet. The results were simply magical; over 41 minutes, Ryley and the players turned these three songs into long-form jazz meditations. If Ryley's albums fall firmly enough into the "folk" camp, his live show is a completely different beast, something that lives as close musically to the Grateful Dead and free jazz as to Van Morrison or Bob Dylan.
The brand-new song "Sullen Mind," lyrically, is a hangover tune, a drunk's lament, and Ryley summons the narrator's loneliness and pain with relatively few lyrics, delivered at times with a slur that leaps to a howl. The ensemble follows with urgency, their collective sound growing insistent and dark, almost an analog for the troubled mind of the story. Seated just a few feet from Ryley, it was chill-inducing to watch and hear the song unfold, as the players barely needed a nod from their leader to storm forward from the last chorus into a climactic outro. The brass didn't show up until the new track "Funny Thing She Said," but that song made an immediate impact on a song that made a perfect bookend to "Sullen Mind," both of them chill-inducing laments. And lest the lone album track played — "Primrose Green" — get short shrift, it, too, soared on the one-two punch of Brian Sulpizio and Walker on guitars, a poppy-field tripper of a track that makes you want to find some of the substance name-dropped in the title. As Ryley and his band headed off to Solid Sound Festival, more touring upstate and elsewhere, and finally back home to Chicago for the Pitchfork Music Festival, they are firing on all cylinders, a live unit at or near the peak of their powers. At this point, in festival-land, they're still playing early — don't miss them.
I recorded this set with a soundboard feed from the Le Poisson Rouge team, combined with Schoeps MK41V supercardiod microphones clamped to the soundboard booth and a split pair of DPA 4061 omnidirectional microphones on the stage. The sound quality is outstanding. Enjoy!
Download the complete set from the Live Music Archive: [FLAC] | [MP3] + [Apple Lossless] 

Ryley Walker
2015-06-26
Le Poisson Rouge
New York, NY USA
Exclusive download hosted at nyctaper.com
Recorded and produced by acidjack
Soundboard + Schoeps MK41V (at SBD, PAS)>KC5>CMC6>> Roland R-26 + DPA 4061 (onstage, split 2ft)>CA-UBB>Sony PCM-M10>>3x24bit/44.1kHz WAV>Adobe Audition CS 5.5 (align, mix down, fades)>Izotope Ozone 5 (limiter, EQ, effects)>Audacity 2.0.5 (tracking, dither)>FLAC ( level 8 )
Tracks [Total Time 41:43]
01 Sullen Mind
02 Primrose Green
03 [banter]
04 Funny Thing She Said
Band:
Ryley Walker – Vocals, guitar
Ryan Jewell – Drums
Ben Boye – Keys
Brian Sulpizio – Electric guitar
Anton Hatwich – Bass
Levon Henry – Sax
Jamie Branch – Trumpet
If you enjoyed this recording, PLEASE SUPPORT Ryley Walker, like him on Facebook, and buy Primrose Green from Dead Oceans.