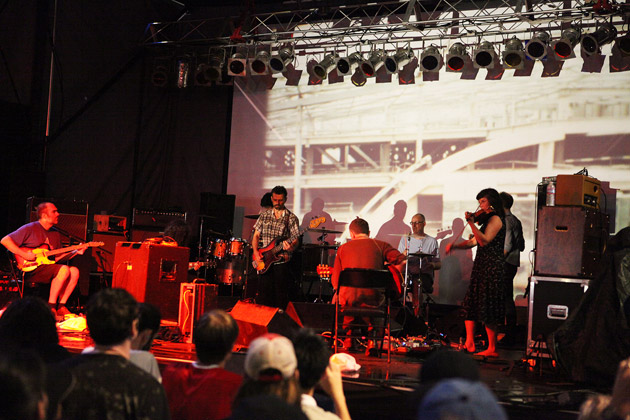 [Photos courtesy of Kenneth Bachor via BrooklynVegan]
Godspeed You! Black Emperor shows are always meditative affairs, where you allow the band's long instrumental sequences to draw you in, slowly, bombarding you with projected images against the backdrop of a black room. It's an entirely different experience when that backdrop is of limited size, and the dark room is replaced with the downtown plaza of Raleigh, NC, lit by streetlamps and neon signs from Jimmy John's and the local Marriott. In that environment, how can you concentrate on something like this? Can it resonate?
Perhaps nature provided the best way, in the form of a downpour that blanketed the plaza in the early going, its sheets of rain and gusts driving away the merely-curious until only the die-hards were left. Absent the excess conversations, forced to reckon with whether this show was worth it under the circumstances, those who stayed answered their own question. GSYBE shows are events; their music isn't for everyone, and they don't make any effort to make things otherwise. So, as I held onto my mic stand to keep it and the umbrella covering it from blowing over (which you can hear it doing at one point), I thought about the level of commitment this band requires, and how, as was the case when we covered their NYC run in 2011, they are, in fact, always worth it. Even if you can't ignore that this setting will never be considered ideal.
This was the kickoff headlining set of Hopscotch Music Festival, and as befits GSYBE, it started with a slow drone, not a bang. After the so-called "Hope Drone," we were were treated to the band's entire latest album, Asunder, Sweet and Other Distress (my, how these people love punctuation), a four-song sequence the band refers to on setlists as "Behemoth." Next up came a new number that is as-yet untitled, followed by two classics, "Moya" from the Slow Riot for New Zero Kanada EP and "The Sad Mafioso" from F? A? ?. If the stage was small, the band's sweep and ambition remained titanic, as evidenced by the soaring guitars of the new number, whose sustained early peak and soaring conclusion felt like a respite from the rain itself. The attentive, soaking crowd clustered around the stage, keeping the between-song cheering polite and minimal, in keeping with the subtlety of the songs' transitions. Once things came to a head, though, as "The Sad Mafioso" sprinted toward its stormy conclusion, the shouts began, and sustained, until long after the band had disappeared from stage, leaving that little space empty, their sound only a memory in the night's new void.
I recorded this set with Schoeps MK4V microphones under an umbrella-covered mic stand directly in front of the soundboard. Other than the usual effects of distance and being outdoors, the sound quality is excellent. Enjoy!
Download the complete show from the Live Music Archive: [MP3] | [FLAC]
Stream the complete show:

Godspeed You! Black Emperor
2015-09-10
Hopscotch Music  Festival
Raleigh, NC  USA
Hosted at nyctaper.com
Recorded and produced by acidjack
Schoeps MK4V (PAS)>KC5>CMC6>Edirol R-44>2x24bit/48kHz WAV>Adobe Audition CS5.5 (fades, align, mix down, compression)>Izotope Ozone 5 (EQ, effects, imaging)>Audacity 2.0.3 (track, amplify, balance, downsample, dither)>FLAC ( level 8 )
Tracks [thanks to P.E. Tremblay for the setlist]
01 Hope Drone
02 Peasantry or 'Light! Inside of Light!'
03 Lambs' Breath
04 Asunder, Sweet
05 Piss Crowns are Trebled
06 [new song]
07 Moya
08 The Sad Mafioso
If you enjoyed this recording, PLEASE SUPPORT Godspeed You! Black Emperor, visit their website, and buy their albums from Constellation Records.