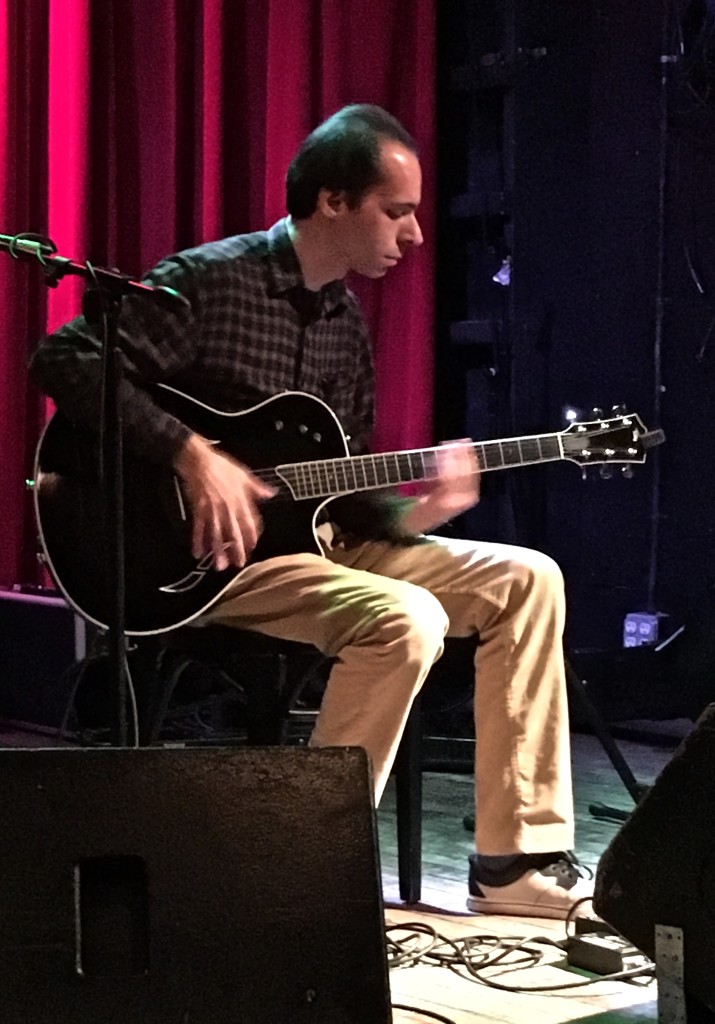 For my first recording of 2016, I got to witness the album debut of a New York music veteran, among a room of like-minded souls. We saw Alan Licht live debut many of the tracks that would make up his latest release, Currents, back in August, but he arrived at Union Pool this time with copies of the finished product in hand, and the ideas on it more tightly wound. Relative to some of his peers, Licht's songs feel like they ride less on fingerpicking prowess (though that's considerable) than on the strength of his melodies, which give the thrilling jolt of a good rock song even without the lyrics or band that typically accompanies such things. Like the previous show, this one began with the immediate appeal of "Riding On the S's" followed by "First Lover, Haleema" from Currents, as well as serving up at least one track that didn't make the record simply because it wouldn't squeeze onto a side of vinyl. January shows are always a joy for the true music fan, as the cold weather tends to draw only those who really care, and that was evident in the pin-drop quiet room during these engaging, minimalist tunes. From the delicate "Uncertainty" to the melancholy and final "Seventh Song," Licht showed off the strength of this latest cycle of creativity. Make a date for his next NYC visit, or wherever you might be able to see him.
I recorded this set with a soundboard feed by Kevin Mazzarelli and Schoeps MK4V microphones. The sound quality is excellent, far superior to the previous recording. Enjoy!
Download the complete show: [MP3/FLAC]
Stream the complete show (minus banter tracks):

Alan Licht
2016-01-06
Union Pool
Brooklyn, NY USA
Exclusive download hosted at nyctaper.com
Recorded and produced by acidjack
Soundboard (engineer: Kevin Mazzarelli) + Schoeps MK4V>KC5>CMC6>>Zoom F8>2x24bit/48kHz WAV>Adobe Audition CS 5.5 (align, mix down, compression, limiter)>Izotope Ozone 5 (EQ, exciter)>Audacity 2.0.3 (track, amplify, balance, downsample, dither)>FLAC ( level 8 )
Tracks [Total Time 44:17]
01 [intro]
02 Riding on the S's
03 First Love, Haleema
04 [untitled]
05 [banter]
06 Uncertainty
07 [untitled 2]
08 Currents
09 Raw Deal
10 Seventh Song
If you enjoyed this recording, PLEASE SUPPORT Alan Licht by visiting VDSQ Records and buying Currents there.