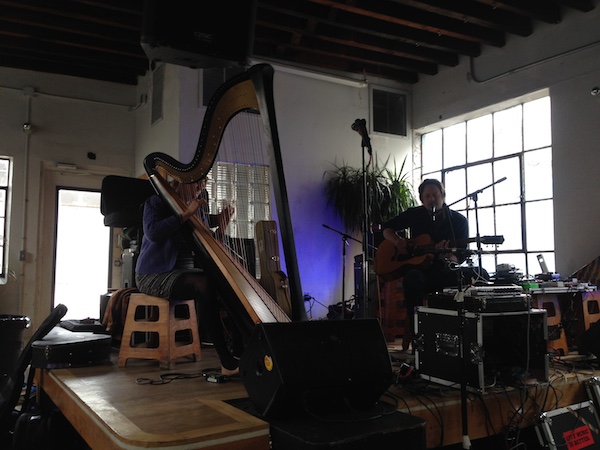 I might've had one of the quietest ever Super Bowl Sundays this year, having spent the afternoon at Trans-Pecos for a bill featuring a Matt Valentine solo set, another solo set from Samara Lubelski, and a duo set from experimental harpist Mary Lattimore and Dave Mies, one-half of Tall Firs. For a self-described "depressy guy," Mies's songs aren't nearly the downers the lyrics might suggest. Instead, his overpowering-yet-delicate vocals and quietly strummed guitar produce songs that you feel you could wrap yourself in like blankets. Paired with Lattimore's harp, the two instruments form a dialog that belies the isolation of the lyrics. Besides a cover of Townes Van Zandt's "Nothin'" and the Tall Firs tune "Winter Wind" (off last year's excellent Ghostlight Ensemble), the set is a batch of entirely new songs that will nonetheless sound pretty familiar if you've been following along with Tall Firs. One can only hope they'll see release soon in some form, whether as a Tall Firs record or something else entirely. In the meantime, there's still some winter left for you to get warm and depressy with this recording.
I recorded this set from the stage lip at Trans-Pecos, with the mics also picking up the vocals from the monitors. As usual for a quiet set like this there's some ambient noise, but nothing too distracting. Overall the sound is excellent. Enjoy!
Mary Lattimore will be back at Trans-Pecos on March 4 for a record release show. All upcoming dates are here.
Stream and Download via Bandcamp:

Mary Lattimore and Dave Mies
2016-02-07
Trans-Pecos
Queens, NY
Exclusive download hosted at nyctaper.com
Recorded and produced by Eric PH
AKG C480B/CK61 (stage lip) > Roland R-26 > WAV (24/48) > Adobe Audition CC (limiter, compression, normalize, fades) > Izotope Ozone 5 (EQ) > Audacity 2.0.5 (downsample, dither, tracking, tagging) > FLAC (16/44.1, level 8)
Tracks [26:09]
01. [Intro]
02. Not My Friend
03. 69
04. Nothin' [Townes Van Zandt]
05. 55 Watts
06. Winter Wind
07. [banter]
08. Scratch
09. [banter/tuning]
10. I Give Up
Support Tall Firs: Facebook | Website | Buy Ghostlight Ensemble via Amazon
Support Mary Lattimore: Website | Buy Luciferin Light via Bandcamp | Buy Slant of Light (with Jeff Zeigler) via Thrill Jockey