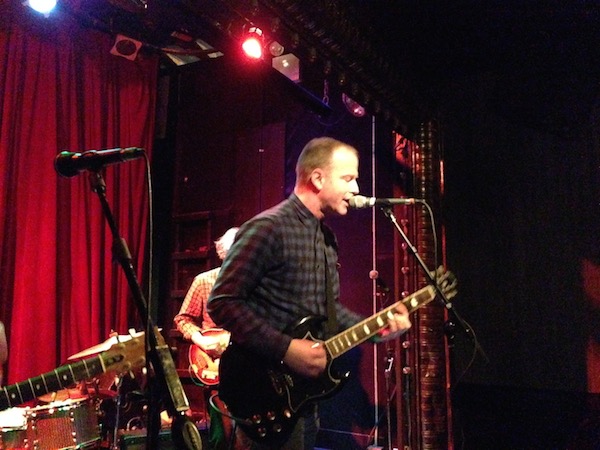 It was sad news last year when Obits announced their dissolution. Fortunately we were there for their second-to-last NYC performance, at Brooklyn Night Bazaar back in November 2014. It goes without saying that Obits will be missed. However, Obits alums Sohrab Habibion (also ex-Edsel) and Greg Simpson weren't quiet for very long. Only a month after that announcement, Habibion and Simpson debuted their new band, SAVAK, having recruited a veritable who's-who of nineties and aughts indie rock: Michael Jaworski (The Cops, Virgin Islands); James Canty (The Make-Up, Nation of Ulysses); and Matt Schulz (Enon, Holy Fuck); plus Greg Vegas (Hat City Intuitive, Monsterland) guesting on saxophone. SAVAK recently completed the recording of Best of Luck in Future Endeavors, which will be released on Comedy Minus One in late May. I conned my way into a sneak preview of the mastered album—why else tape shows if not for the graft?—and I assure you, this one's a keeper.
In anticipation of the upcoming record, we made it out for a snowy evening with SAVAK at Union Pool where we were treated to a performance of much of the Best of Luck in Future Endeavors, plus a cover of MDC's "I Remember." If I were to make comparisons I'd feel pretty confident making the obvious one to Sohrab Habibion's classic nineties band Edsel. Additionally, SAVAK channels I.R.S.-era R.E.M., especially on the standout track "Reaction." The rest of the set will have you shaking in your desk chair in no time, so let this tide you over until the album release.
SAVAK's next scheduled show is at the Bell House on May 11, with Kid Congo Powers & The Pink Monkeybirds. Tickets are on sale.
I recorded this set from our usual location at Union Pool, the room mics combined with a board feed from FOH Robert. I mixed those down and then Sohrab provided some additional mastering. The results are excellent. Enjoy!
Download the complete show: [MP3/FLAC]
Stream the complete show:

SAVAK
2016-01-22
Union Pool
Brooklyn, NY
Exclusive download hosted at nyctaper.com
Recorded and produced by Eric PH
Mastered by Sohrab Habibion
Soundboard (engineer: Robert) + AKG C480B/CK61 > Roland R-26 > 2xWAV (24/48) > Adobe Audition CC (align, balance, compression, mixdown, normalize, fades) > Izotope Ozone 5 (EQ) > Mastering > Audacity 2.0.5 (downsample, dither, tracking, tagging) > FLAC (16/44.1, level 8)
Tracks [37:27]
01. Split Decision
02. Alive in Shadows
03. They Are Bones
04. Reaction
05. This Currency Exchanged
06. Elapsed Remaining
07. Drop the Pieces
08. Sick of War
09. Early Western Traders
10. Call It a Night
11. I Remember [MDC]
Support SAVAK: Website | Facebook | Comedy Minus One