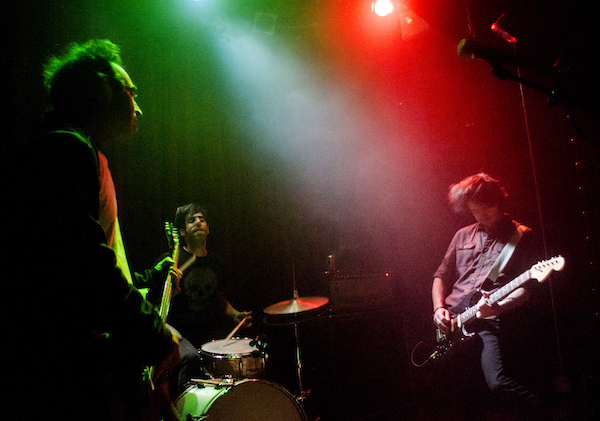 [Photos by Rocketman]
Here we have it—another bone-crushing, mind-rattling set from Brooklyn's notorious Beech Creeps. I had thought these guys put on a monstrous set last time I saw them at Union Pool, but that was nothing. The addition of Brian Chase (Yeah Yeah Yeahs) on drums has turned a great band into a formidable one. Their new 7″ out on Monofonus Press absolutely crushes, and we got to hear both sides of that disc at the Monofonus Press Northside Showcase a couple weeks back. A-side "Creeps Can't Swim" and b-side "Deep in the Dive" both pack a mean punch, and the band even breaks out a new song, "Suntan Man" (the title itself sounds pretty damn skeevy). If you have the opportunity to catch these guys live, I have to pretty much insist that you do so. No further dates currently, but if you're in Brooklyn, you'll have ample opportunity.
I recorded this set from our usual location in the venue, combined with a board feed from Union Pool FOH Robert. The sound is outstanding. Enjoy!
Download: [MP3/FLAC]
Stream:

Beech Creeps
2016-06-10
Union Pool
Brooklyn, NY
Exclusive download hosted at nyctaper.com
Recorded and produced by Eric PH
Soundboard (engineer: Robert) + AKG C480B/CK63 (PAS) > Roland R-26 > 2xWAV (24/48) > Adobe Audition CC (align, compression, mixdown, normalize, fades) + Izotope Ozone 5 (EQ) > Audacity 2.0.5 (downsample, dither, tracking, tagging) > FLAC (16/44.1, level 8)
Tracks [37:47]
01. Son of Sud
02. Teenage Boogie
03. Times B Short
04. Creeps Can't Swim
05. Arm of the T Rex
06. Deep in the Dive
07. Suntan Man
• Buy Beech Creeps and the "Creeps Can't Swim" 7″ from Monofonus Press
• • Connect with the band on Facebook, Bandcamp, and Twitter