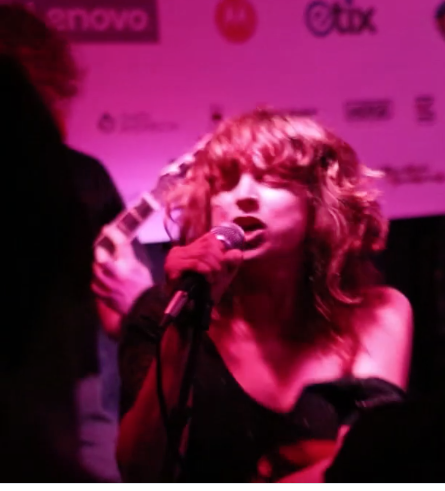 [screen capture from this video]
The addition of the Austin band A Giant Dog to the Merge Records team further bolstered the label's noisier section of the roster. The band's well-received Merge debut, Pile, is a hard hitting slab of punk-inflected hard rock, an old-fashioned paean to sex, drugs, and not giving a fuck. They're well-known for their live performances for a reason, and theirs is the kind of music that calls for being listened to in a narrow, all-black closet of a room. Slim's, Raleigh's go-to for this sort of thing, fit the bill perfectly on this first night of Hopscotch Music Festival, and A Giant Dog lit it up for the packed house. Led by frontwoman Sabrina Ellis's frenetic delivery, A Giant Dog proved you can play with both abandon and appeal. By the time they made it to "Sleep When Dead," they'd pretty much established a mantra for festivalgoers settling into three days of non-stop music, and they'd proven once again that Merge knows how to pick 'em.
David Schwentker recorded this set with Church Audio CA-14 omnidirectional microphones hung from an optimal point in the venue. You may need to turn up the volume on this one a bit more than usual, but believe us, it's all there. Enjoy!
Download the complete show: [MP3/FLAC]
A Giant Dog
2016-09-08
Hopscotch Music Festival
Slim's
Raleigh, NC USA
Recorded and produced by David Schwentker
Church Audio CA-14 omnis > Olympus LS-10 > WAV > Audacity (track, mixing) > Trader's Little Helper (conversions) > FLAC (level 8) > foobar2000 (tagging)
Tracks:
01. [intro]
02. Creep
03. [banter/amp issues]
04. Another World
05. Lady Slut
06. Hitchhike Love
07. new song
08. Sex & Drugs
09. & Rock & Roll
10. I'll Come Crashing
11. Photograph
12. King Queen
13. Too Much Makeup
14. Jizzney
15. Angst In My Pants (Sparks cover)
16. Sleep When Dead
SUPPORT A GIANT DOG: Website | Merge Records