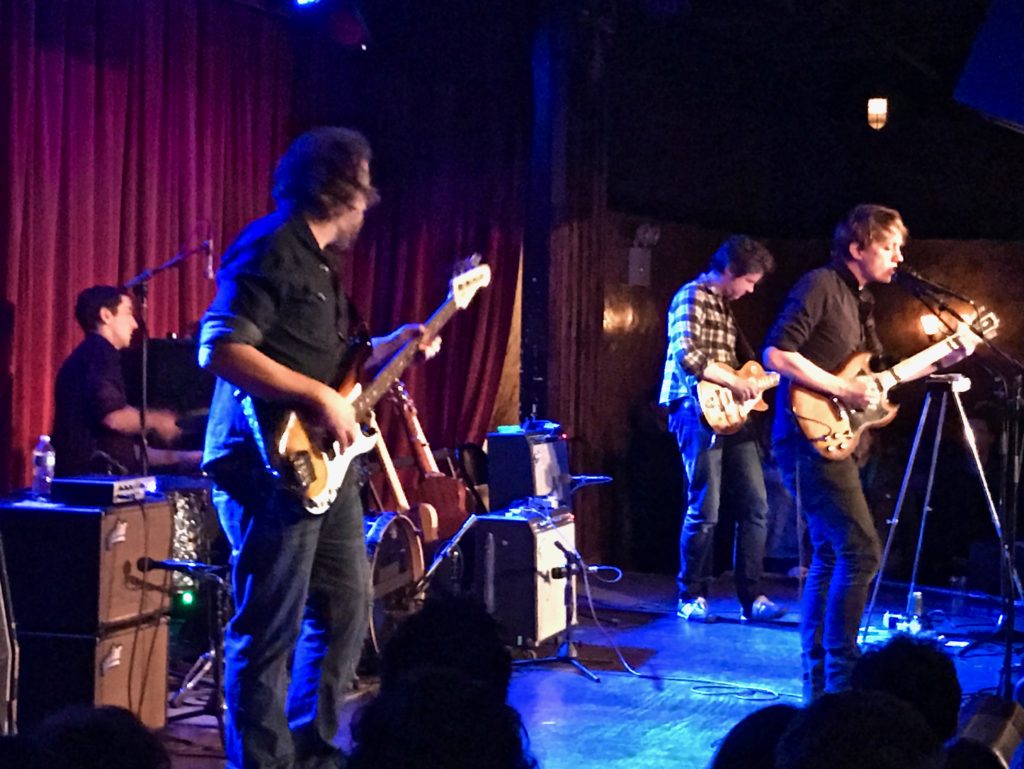 Watching Steve Gunn and his latest band play this performance at The Bell House reminded me of the below Gunn performance with Alex Bleeker & the Freaks at the "Play Dead" show that we captured in 2015. Gunn's music at the time — consisting of solo guitar records, his duo work in Gunn-Truscinski Duo, and his two Paradise of Bachelors LPs, Time Off and Way Out Weather — wasn't necessarily the work of someone who revered the Dead. But as he and Bleeker's band played "Wharf Rat" that night, it all clicked. Part of what continues to make the Grateful Dead so special is that there are multiple entry points to the band, a whole universe of styles and vibes contained within individual tours and individual shows and, even, individual songs. Gunn wasn't a person who mimicked the band's style(s), at all, but he had absorbed many of their lessons. And this show, more than most of his I have seen, proved it.
This show, the band's final of the year after a long slog of touring and greatly increased exposure thanks to Gunn's Matador Records debut, Eyes On the Lines, was my first time seeing most of Eyes On the Lines in the live setting, despite having seen Gunn several times this year. Maybe it was the hometown crowd, whose love is unconditional and the opposite of the "play the hits" mentality of the festival crowds, maybe it was the finely honed interplay among the musicians, maybe it was just them saying "fuck it" and doing things the way they wanted — whatever it was, Gunn and Co. came out and turned even some of the relatively concise material of Eyes On the Lines into life-affirming jams that both challenged and enlightened. What's most gratifying about watching an artist that you've followed for a while keep doing this after achieving his greatest commercial popularity to date is to know how unafraid of it he is, how resolutely true to himself.
Gunn bookended the show with stripped-down songs, starting things off with a fourteen-minute solo acoustic "Old Strange" that was a classic mix of Gunn's earnest lyrics and desert blues guitar, with the "Wildwood" encore with James Elkington on the electric and Steve on the acoustic. While hearing the new songs — especially a personal favorite, "Ancient Jules" — was a blast, what also stuck me was once again how the music cut through the heaviness of the political moment without flinching from it. Gunn's impassioned intro to "Park Bench Smile" about inclusion and "fighting what the fuck's happening" hit its mark, but the song, as rendered, spoke for itself. A noisy, messy, emphatic rendition of the song, it felt like so much of this moment, chaotic but, ultimately, resolved into something hopeful, defiant, and right. What a way to end a year.
I recorded this set with engineer David Hurtgen's house mix combined with Schoeps MK41V hypercardiod microphones. David's regular work with the venue shows here, as the sound is dialed in and excellent. Enjoy!
Download the complete show: [FLAC/ALAC/MP3]
Stream the complete show:

Steve Gunn
2016-12-09
The Bell House
Brooklyn, NY USA
Exclusive download hosted at nyctaper.com
Recorded and produced by acidjack
Soundboard (engineer: David Hurtgen) + Schoeps MK41V (at SBD, PAS)>KC5>CMC6>>Zoom F8>2x24bit/48kHz WAV>Adobe Audition CC (align, mix down, compression, fades)>Izotope Ozone 5 (EQ, effects, image)>Audacity 2.0.3 (track, amplify, balance, downsample, dither)>FLAC ( level 8 )
Tracks [Total Time 1:26:57]
01 [intro]
02 Old Strange [solo acoustic]
03 Way Out Weather
04 Conditions Wild
05 [banter]
06 Ancient Jules
07 Night Wander
08 Full Moon Tide
09 [banter2]
10 Ark
11 [banter3]
12 Park Bench Smile
13 [encore break]
14 Wildwood [duo w/ Elkington]
Band:
Steve Gunn
James Elkington – Guitar
Jason Meagher – Bass
John Truscinski – Drums
PLEASE SUPPORT STEVE GUNN: Go to matadorrecords.com or your local record store and buy Eyes On the Lines. 
And then, please consider donating to local organizations that support freedom and fair treatment for all, such as the New York Civil Liberties Union and the New York Immigration Coalition.