It's April and that means cosmic travelers Acid Mothers Temple have reappeared in our North American dimension for their yearly psych ritual, this one dubbed the Hallelujah Mystic tour. Kawabata & co. are awfully prolific so for those of us who might have lost track of their recorded freakouts, these outings make for a nice catchup. This set from the Knitting Factory captures some old favorites like "Pink Lady Lemonade" and "Cometary Orbital Drive," plus a couple more recent additions like the band's extended takes on Black Sabbath's "The Wizard" and Gong's "Flying Teapot."
I recorded this from our usual location at Knitting Factory, to the right of the soundboard. The sound is excellent. Enjoy!
The Hallelujah Mystic Tour 2017 continues in this and other dimensions! Check here for the remaining dates.
Download the complete show at the Live Music Archive.
Stream the complete show: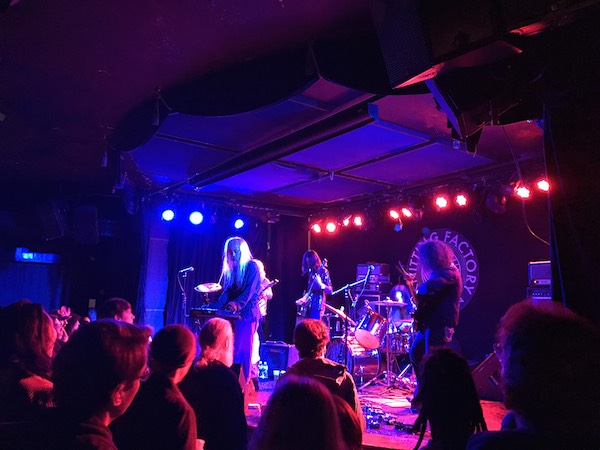 Acid Mothers Temple
2017-04-22
Knitting Factory
Brooklyn, NY
Hallelujah Mystic Tour 2017
Recorded and produced by Eric PH for nyctaper.com
Soundboard + AKG C480B/CK63 (ROC, PAS) > Zoom F8 > 2 x WAV (24/48) > Adobe Audition CC (align, mixdown, balance, compression, normalize, fades) + Izotope Ozone 5 (EQ) > Audacity 2.0.5 (tracking, tagging) > FLAC (24/48, level 8)
Tracks [1:06:14]
01. Anthem Of The Inner Space
02. The Wizard [Black Sabbath]
03. Flying Teapot [Gong] >
04. Pink Lady Lemonade
05. Another Nanique Dimension >
06. Cometary Orbital Drive
Kawabata Makoto : guitar, synthesizer, voice, speed guru
Higashi Hiroshi : synthesizer, harp, noodle god
Mitsuko Tabata : guitar, guitar-synthesizer, voice, free kisses & hugs
Satoshima Nani : drums, another dimension
S/T "Wolf" : bass, space and time
• Website
• • Buy Wake to a New Dawn of Another Astro Era via Important Records