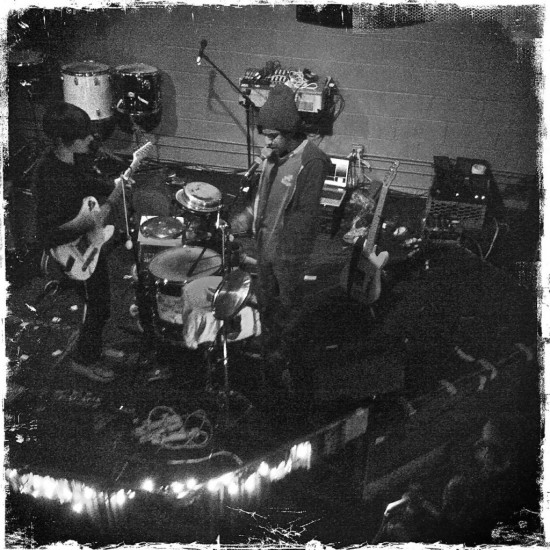 [Photos by acidjack with iPhone4 and Hipstamatic]
I will forgive you for thinking, on first listen, that some of the crackles and pops in this recording of Headless Horseman's latest performance at Glasslands are technical faults. The band's sound relies on the studio combo of heavy compression and clipping to create their fuzzy, beat-driven bedroom folk (think a glitchier Menomena or a more electronic Microphones). The band's blown-out sound challenged the Glasslands sound system (and maybe some ears) at times, but their pop sensibility shone through. The duo of Fareed Sajan (of Bottle Up and Go) and Conner O'Neill make their live sounds through an interesting array of drums and other homespun percussion that lies between them, allowing them both to pound out their beats simultaneously if they wish (they also have a laptop, of course). Most of these songs come from the band's current bandcamp EP, 5songs, which should be on your hard drive if it isn't. The band also played a new number that we have not heard before. This was the last show that I attended this year, and there couldn't have been a better way to end a spectacular year, with a cutting-edge band that we are sure to see more of in 2011. Thanks to our friends at forthebeat for putting together this excellent bill!
I recorded this set from the balcony with the DPA microphones and a soundboard feed. A couple of the pops during "Demonsong" may actually not be intentional, but the sound overall is excellent. Enjoy!
Stream "SH8KR":
[audio:http://www.nyctaper.com/H1612HeadlessHorseman0210/HeadlessHorseman-SH8KR.mp3]
Direct download of MP3 files [HERE]
Download the Complete show in FLAC [HERE].
Headless Horseman
2010-12-16
Glasslands
Brooklyn, NY USA
An acidjack master recording
Recorded and produced by acidjack for nyctaper.com
Equipment: Soundboard+DPA 4021>Edirol R-44 [Oade Concert Mod] (24/48)
Position: Balcony, ROC, mics ORTF
Mastering: 2x24bit/48kHz WAV>Audacity (mixdown, set fades, light compression, tracking, downsample)>FLAC ( level 8 )
01 Wavlngth
02 banter
03 Demonsong
04 SH8KR
05 [new]
06 banter
07 Growing
If you download this recording from NYCTaper, we expect that you will PLEASE SUPPORT Headless Horseman, visit their MySpace page, and purchase 5songs from their bandcamp page.