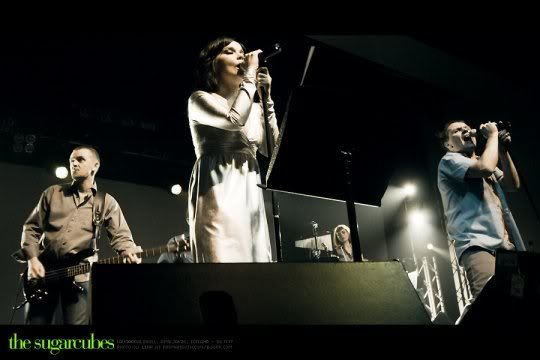 It was announced in September, and it almost seemed too miraculous to be true. The concert was scheduled on my actual Birthday! But when the travel package was posted on the icelandair website, the concept of flying 2500 miles to Iceland became a reality.
Oh, and what a reality–four days of celebration in a city that loves its nightlife. Reykjavik is perhaps the most fun city in Europe. Sandwiched in the middle was the reunion concert, which as you can tell from this recording, was sublimely magnificent. The band was tight, energetic, motivated, and was having a ball. As were we.
If you were interested in this concert, you've undoubtedly seen many youtube clips of varying quality. At some point there was discussion of an official release, but all the members have moved on, and that seems highly unlikely. What nyctaper.com presents is the only complete recording of this concert, and in outstanding audio quality. I was able to record the concert with my best equipment, and the Icelandic audience was attentive and charming.
nyctaper.com presents as its premiere free lossless download recording:
Direct Download of FLAC files [HERE].
The Sugarcubes
2006-11-17
Laugardalsholl
Reykjavi­k Iceland
20th Anniversary Reunion Concert
01 Traitor (Icelandic [I])
02 Leash Called Love
03 Deus (I)
04 Water (I)
05 Bee (I)
06 Planet
07 Shoot Him (I)
08 Walkabout
09 Mama
10 Pump (I)
11 Regina (I)
12 A Day Called Zero
13 Ammæli
14 Coldsweat
15 Blue Eyed Pop
16 Motorcrash
17 Delicious Demon
Encores:
18 Hit
19 F*cking in Rhythm & Sorrow
20 Luftgitar**
**With Johnny Triumph and various band members' children
As with all artists to be featured on this site, please SUPPORT the ARTIST
and buy their official releases. This concert itself was a benefit to support
the Smekkleysa/Bad Taste Label. Excellent Sugarcubes releases are available at:
Bad Taste Online Shop