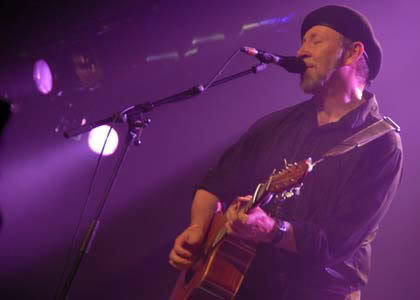 Richard Thompson is currently on tour supporting one of his strongest albums in quite some years, Sweet Warrior, and he performed a free concert in Prospect Park in Brooklyn last night. Under the most difficult conditions, Thompson delivered a stunning performance of new material and classics, proving once again that he is one of the most prolific and yet under-appreciated performers of last four decades.
But, oh, the rain. With any outdoor concert, the elements play a part in the experience, but this recording is an extreme example. As Thompson took the stage, it began to rain and in the middle of the second song ("Bad Monkey"), the skies opened with a torrential downpour and lightning. The commotion during that song is obvious on this recording. The concert was halted for about 15 minutes, and the crowd ran for cover.
Thankfully, my equipment was not drenched, due to the kindness of a older couple providing cover with a plastic tarp. It rained on and off throughout most of the concert, and there are moments when the surrounding noises of umbrellas and people fleeing for cover can be heard. There is one song missing from this recording ("Mingulay Boat Song"), as my Marantz digital recorder seized near the end of "I'll Never Give it Up", most likely as a result of excessive moisture. After a reset, the recording resumed and the balance of the set was captured.
All things considered, under the most difficult circumstances possible, this recording is nevertheless an outstanding capture of a memorable Richard Thompson concert. For an example of this recording at its best, sample the encore "Sunset Song".
Interestingly, this recording comes almost exactly 10 years to the day since the last time I recorded Thompson, June 15, 1997 at the Fleadh Festival. That 1997 recording will be posted on this site in the coming months.
This recording is no longer available at NYCTaper. Search the web and you'll probably find it.
Richard Thompson
2007-06-21
Prospect Park Bandshell
Brooklyn, NY USA
Digital Master Recording
Recorded from in Front of the Soundboard Booth
Center Seating Section
DPA 4021's > Marantz PMD-660 (Oade BCM) > flac
Premiere Download offered at
http://www.nyctaper.com
nyctaper@nyctaper.com
Setlist:
[Total Time 1:30:48]
01 Needle & Thread
02 Bad Monkey
03 Dad's Gonna Kill Me
04 Take Care the Road You Choose
05 The Wrong Heartbeat
06 Al Bowlly's in Heaven
07 1952 Vincent Black Lightning
08 One Door Opens
09 I'll Never Give It Up//
Mingulay Boat Song [not recorded]
10 A Man in Need
11 I Want to See the Bright Lights Tonight
12 Wall of Death
13 Read About Love
Encores:
14 Sunset Song
15 Mr. Stupid
16 Persuasion
17 Tear Stained Letter
Information:
txt file
Verification:
md5 file
As with all recordings posted on this site, please support this outstanding artist, visit Richard Thompson's website, and buy his commercial releases.

Purchase Richard Thompson's latest CD