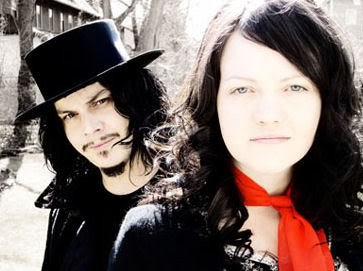 NYCTaper became PEITaper for a night when my annual vacation trip to Prince Edward Island crisscrossed with the White Stripes
tour across Canada. Charlottetown is a beautiful old city on the water, and its quaint Civic Centre provided a uniquely intimate setting to experience Jack and Meg on tour. The White Stripes large stage set-up and the layout of the small hockey arena only allowed for about 1200 people in the facility.
I was seated in the first row of the stands, 3 seats from the front, directly in line and only 20 feet from the left PA speaker stack. As a result, the recording is quite clear and upfront. Additionally, the hockey boards provided a buffer from much of the noise of the crowd from the floor.
As you'll hear in the recording offered for download below, the White Stripes used the intimate setting to perform a nice varied setlist and a high energy show–such that Charlottetown may be the best show of the entire Canadian tour.
This recording is no longer available due to Mr. White's new strict anti-taping and anti-sharing policy.
White Stripes
2007-07-11
Civic Centre
Charlottetown
Prince Edward Island
Canada
Digital Master Recording
Recorded from Section 18, Row A, Seat 9
20 Feet in Front of Left PA Stacks
DPA 4021's > Marantz PMD-660 (Oade BCM) > flac
Premiere Download offered at
http://www.nyctaper.com
nyctaper@nyctaper.com
Setlist:
[Total Time 1:25:58]
01 Dead Leaves and the Dirty Ground
02 Icky Thump
03 Hotel Yorba
04 Cannon
05 I'm Slowly Turning Into You
06 Wasting My Time
07 Jolene
08 Catch Hell Blues
09 The Same Boy You've Always Known
10 I'm Finding It Harder To Be A Gentleman
11 I Think I Smell a Rat
12 In The Cold, Cold Night
13 You Don't Know What Love Is
14 The Denial Twist
15 One More Cup of Coffee
16 We're Going To Be Friends
17 Fell In Love With a Girl
18 Ball and a Biscuit
19 [encore break]
20 Black Math
21 Blue Orchid
22 Party of Special Things to Do
23 I Just Don't Know What to Do With Myself
24 Seven Nation Army
25 Boll Weevil
As with all artists featured on this site, if you download this recording please visit White Stripes Website and purchase their commercial releases.
Support the White Stripes and purchase the new album Icky Thump