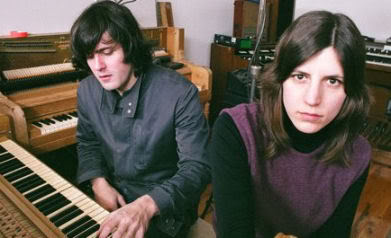 Oh, what a perfect day. The Fiery Furnaces played for free in a beautiful park on a beautiful day, and all was right with the world. The crowd had a buzz, but remained attentive and supportive. The band sounded terrific and performed a short but tight set. With the East River behind them, and Socrates Sculpture Park before them, the Fiery Furnaces whirled through the live Bitter Tea
suite, before closing out with a 30-minute medley of older songs. Eleanor was strong of voice, as the band was driven by the unique beats of double percussionists and anchored by Matt's direction and keys.
My recording conditions were also ideal. Many thanks to Spencer, the admin from fieryfurnaces.com forum, both the band and management approved my recording. As a result, I was able to utilize my best equipment from the perfect location–centered directly in front of the soundboard, 25 feet from the stage and PA speakers. As you'll hear in the download below, the results are truly profound.
This Fall, the Fiery Furnaces will release their new album Widow City, and will embark on a tour across the country. The NYC date is November 3 at Hiro Ballroom.
The complete show in FLAC files available [HERE].
Fiery Furnaces
2007-08-26
Socrates Sculpture Park
Queens, New York USA
Digital Master Recording
Recorded from in Front of the Soundboard Booth
Dead Center approximately 25 feet from PA
8 foot Microphone Stand
Neumann KM-150's (AK-50 Hypercardiod Capsules) > Apogee Minime > digital coaxial > M-Audio Microtrack > flac
Premiere Download offered at
http://www.nyctaper.com
nyctaper@nyctaper.com
Recorded and Produced by nyctaper
2007-08-26
Setlist:
[Total Time 1:11:10]
01 [Introduction]
02 In My Little Thatched Hut
03 I'm in No Mood to Comb My Hair
04 Black-Hearted Boy
05 Bitter Tea
06 I'm Waiting to Know You
07 The Vietnamese Telephone Ministry
08 Oh Sweet Woods
09 Borneo
10 Benton Harbor Blues
11 Whistle Rhapsody
12 Teach Me Sweetheart
13 Bitter Tea
14 [stage banter]
15 Single Again
16 Wicker Whatnots
17 Quay Cur
18 I'm Gonna Run
19 Here Comes the Summer
20 Blueberry Boat
21 Tropical Ice-Land
22 Spaniolated
23 Name Game
24 Birdie Brain
25 1917
As with all artists featured on this site, if you download this recording please click the link below to purchase official Fiery Furnaces releases