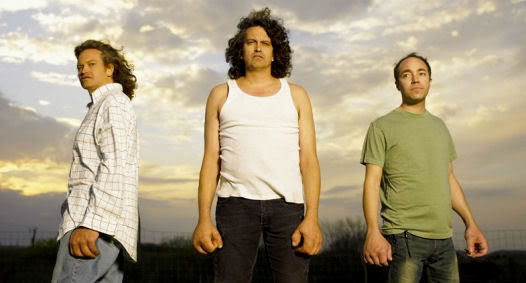 The new Meat Puppets album Rise to Your Knees is a too-modest assessment of the current state of this band. The powerful performance at the Knitting Factory last night was a clear indication that this band has risen to heights that no rational fan could have anticipated after a decade of discord, drugs, death and detention. The 2007 version of the Meat Puppets is tight, engaged, and thoroughly enjoying the return to the spotlight.
The Knitting Factory has been one of the most innovative and superb venues for live music in New York for over two decades. The Leonard Street location continues to grow in stature, with a complete upgrade and overhaul of the facility nearly complete. They have also recently installed a state of the art recording system, which initially led to their reluctance to permit my open recording of this show. To the credit of this venue, the two highly professional and courteous managers discussed the situation with me, and ultimately permitted my recording after the Meat Puppets agreed. I was ultimately able to set up in a prime location next to the soundboard, with the assistance of the sound engineer.
As you will hear in the download featured below, the Knitting Factory engineer mixed this band to perfection. This recording is perhaps the best one ever offered at this site.
This recording is now available for download in FLAC and MP3 at Archive.org [HERE].
Meat Puppets
2007-08-30
Knitting Factory
New York, NY USA
Digital Master Audience Recording
Recorded from Balcony Railing
Inside Soundboard Section
Dead Center approximately 30 feet
eye Level with PA stacks
Neumann KM-150's (AK-50 Hypercardiod Capsules) > Apogee Minime >
digital coaxial > M-Audio Microtrack > flac
Premiere Download offered at
http://www.nyctaper.com
nyctaper@nyctaper.com
Recorded and Produced
by nyctaper
2007-08-31
Setlist:
[total time 1:33:37]
01 Sam
02 Touchdown King
03 Snow
04 Up On The Sun
05 Plateau
06 Look at the Rain
07 Lost
08 Working on a Building
09 The Whistling Song
10 Flaming Heart
11 My Baby's Gone
12 Station
13 Box of Limes
14 Oh, Me
15 Comin' Down
16 Never To Be Found
17 The Wind and the Rain
18 Severed Goddess Hand
19 Lake of Fire
Encores:
20 Climbing
21 Backwater
As with all artists featured at this site, PLEASE SUPPORT Meat Puppets and visit their web page, and purchase their new release :