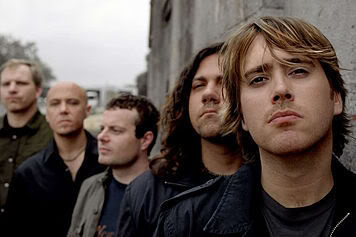 Pat McGee Band is back, and if the Dewey Beach show is any indication, this version of the band is better than ever. Following a year of extreme loss–the tragic and untimely death of original drummer Chris Williams, and setback–the end of their record contract with Kirtland (the Warner/Giant contract ended in 2004), PMB is performing with nothing to lose. Without the shackles of expectations and labels, they are now free to be exactly who they are–a rollicking and rocking fun live act.
The Bottle & Cork is the premiere music venue in the Delaware/Maryland shore area, and one of the best concert halls in the entire Mid-Atlantic region. The venue offers two distinct locations to enjoy the music, the main hall and the patio area, and both afford excellent viewing positions. The sound system is excellent, the staff are courteous and helpful, and there are 5 bars for easy access to drinks.
My personal experience at the Bottle & Cork was made more excellent by the Stage Manager of the venue who invited me to record from the private soundboard booth upstairs. As a result, the raucous crowd does not interfere with the recording, and I was afforded a straight line at the PA stacks.
Unfortunately, I did not anticipate that the Bottle & Cork was partially an outdoor venue, and I neglected to bring my microphone wind screens. The windy Delaware shore made its presence known that night. There were many instances of wind noise on this recording, most of which have been softened in post-production. What is offered below is a fine but slightly flawed recording, and probably not the best I have offered on this site. However, its certainly an enjoyable listen, and Pat McGee Band absolutely ripped the joint. Download is encouraged to experience this excellent live act.
Pat McGee Band will tour this Fall, and the NYC date is at the Bowery Ballroom on September 20. Their new independent release These Days (The Virginia Sessions) is available for purchase here, or as a direct flac or mp3 download here.
This recording is now available for download in FLAC and MP3 at Archive.org [HERE].
Pat McGee Band
2007-08-24
Cork & Bottle
Dewey Beach, Delaware USA
Digital Audience Master Recording
Recorded from Inside the Soundboard Booth
Dead Center, approximately 30 feet from the PA
One Level above the Floor
Neumann KM-150's (AK-50 Hypercardiod Capsules) > Apogee Minime > digital coaxial > M-Audio Microtrack > flac
Recorded and Produced by nyctaper
2007-08-29
Setlist:
Set 1:
01 Guess We Were
02 Girl From Athens
03 Lost
04 Beautiful Ways
05 Haven't Seen For A While
06 Must Have Been Love
07 Elizabeth
08 Come Back Home
09 Running on Empty
Set 2:
01 Fine
02 [stage banter]
03 I Don't Think I'm Listening
04 Runaway
05 Annabel
06 You and I
07 Piano Man
08 Maybe Its Time
09 Stuck in Middle With You*
10 Rebecca
Encores:
11 Passion
12 American Girl
13 I Want You to Want Me
*with one verse of Roadhouse Blues
As with all artists featured on this site, if you download this recording please support this outstanding band and visit the Pat McGee Band website, follow the information above, or and purchase their official releases: