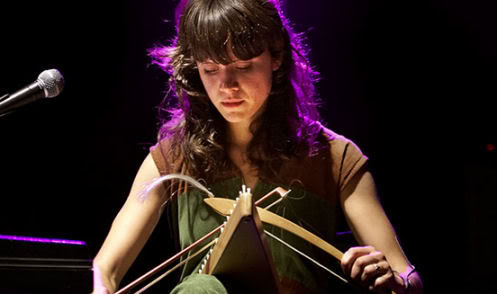 Kria Brekkan is the current stage name for Kristín Anna Valtýsdóttir, former and founding member of the Icelandic avante-ambient band mum. She is also the wife of Avey Tare from Animal Collective, and they collaborated on the 2007 release Pullhair Rubeye.
Her intimate show at St. Mark's tonight was certainly in a similar vein to her career output thus far. Yet as the focus was on Kri­a throughout, it was more personal and intense. She is a classically trained musician who is a superbly gifted piano player, with a unique sense of melody and time structure, and a boundless performance energy. Kri­a performed her set straight through without a break, and at the end of the set she looked up from the piano and seemed to be surprised that she was in a room full of people.
The recording is captured with all the inherent flaws of this performance room–namely surrounding noise and the limits of a small sound system. However, even with all the obstacles, this recording still provides an enjoyable listen of this unique artist.
Download the entire performance in FLAC [HERE].
Kria Brekkan
2007-09-09
St. Mark's Church
New York, NY USA
Digital Master Recording
Neumann KM-150's (AK-50 Hypercardiod Capsules) > Apogee Minime > digital coaxial > M-Audio Microtrack > flac
Many thanks to Kristin for permission to record.
Unfortunately, due to my unfamiliarity with the particular songs, and with the
proper place for track breaks (she played straight through), I have left the entire
set as one track.
Setlist
[Total Time 48:49]
01 Kria's Set
As with all artists featured at this site, PLEASE SUPPORT this wonderful and unique artist and purchase her latest release.