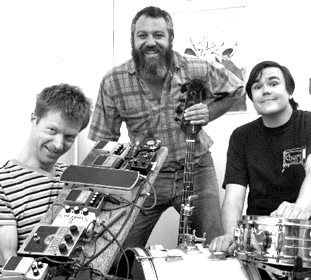 Mike Watt is one of my favorite people in the entire music industry. His "resume" is one of the most impressive in rock history–co-founder of the legendary Minutemen, co-founder of the excellent fIREHOSE, a laundry list of collaborations, and current bass player for the re-formed Stooges–and yet he remains an engaging and personable character.
Contemplating the Engine Room (1997) was Mike Watt's second solo album. Watt formed the band the "Black Gang" and toured the album in 1998. The second leg of the tour featured über-guitarist Nels Cline, then a fairly obscure local LA performer who has now become the permanent lead guitarist for Wilco (read more Cline). The album is a broad allegory in part for Watt's Minutemen experience, and was performed start-to-finish as the first set for the tour.
Watt also permits open taping, trading and archival of his concerts. Throughout many of the Engine Room tour dates, fans were permitted to plug into the soundboard as you'll hear in the download offered below. After the Knitting Factory concert, Mike Watt sat on the edge of the stage, chatted with fans, and sold merch. After I bought the tour t-shirt, I told Watt about my experience of seeing the Minutemen at the Ritz in 1985. Watt's eyes lit up, and I felt a certain kinship with this man, who has spent his entire post-Minutemen career making his late best friend D. Boon proud.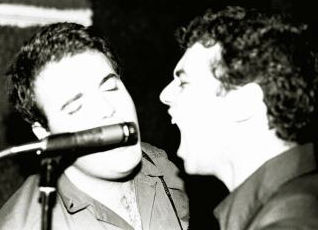 This recording is now available as a direct download at archive.org (here)
Mike Watt & The Black Gang
1998-10-16
The Knitting Factory
New York, NY USA
Digital Soundboard Recording
Soundboard > Sony M-1 DAT Master
Premiere Download offered at
http://www.nyctaper.com
nyctaper@nyctaper.com
Recorded and Produced
by nyctaper
2007-09-02
Engine Room Set:
01 In The Engine Room
02 Red Bluff
03 The Bluejacket's Manual
04 Pedro Bound!
05 The Boilerman
06 Black Gang Coffee
07 Topsiders
08 No One Says Old Man
09 Fireman Hurley
10 Liberty Calls!
11 In The Bunk Room / Navy Wife
12 Crossing The Equator
13 Breaking The Choke Hold
14 Wrapped Around The Screw
15 Shore Duty
Encores:
16 Rebel Girl
17 Forever… One Reporter's Opinion
18 I Have Always Been Here Before
19 Friction
20 Little Johnny Jewel
21 Fear Is A Man's Best Friend
22 The Red And The Black
23 This Is A Prayer
24 Drove Up From Pedro
25 Tuff Gnarl
As with all artists featured at this site, PLEASE SUPPORT Mike Watt and visit his web page, or click the link below to purchase Contemplating the Engine Room: