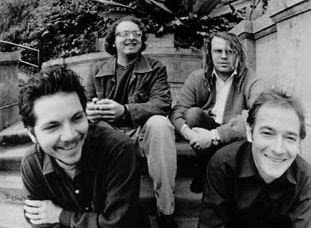 Of all the Wilco shows I have attended, this is the best one. At the NYC stop on the amazing Being There tour, the band's performance is energetic, fun, tight and inspired. This is the infamous "deli tray" show, where the band tossed HBO's complimentary food items into the audience before the second set of encores. The HBO show "Reverb" eventually broadcast about 30 minutes of this concert.
This recording was made from the center of the floor. Three tapers brought equipment to this show, but the venue would only allow one rig–so we chose the guy with the Schoeps microphones. I patched my DAT out of his recorder. The microphone stand can been seen at points during the broadcast. This recording captures that energy of this show in a way that any dry soundboard could not. Enjoy!
The June 25, 2007 Wilco performance at Hammerstein Ballroom is still available in the nyctaper archives (here).
Download the complete show in FLAC format [HERE].
Wilco
1997-02-15
Irving Plaza
New York, NY USA
Audience Master Recording
Recorded from 30 feet, dead center, front of board, with mic pole.
Schoeps microphones (unknown model) > DAT deck (unknown model) >
patched to Sony D-7 DAT
DAT Master > Panasonic SV-3800 > digital coaxial > Audigy 2 ZS Platinum >
Soundforge > 16 bit 44.1 wav > CD Wave (tracking) > Flac Frontend (level 7,
align sector boundaries) > flac
Recorded by nyctaper
http://www.nyctaper.com
Setlist:
(Total Time 1:41:26)
01 Misunderstood
02 Far, Far Away
03 Forget The Flowers
04 That's Not The Issue
05 Someday Soon
06 New Madrid
07 Red-Eyed And Blue
08 I Got You (At The End Of The Century)
09 Someone Else's Song
10 Why Would You Wanna Live
11 I Must Be High
12 Passenger Side (punk)
13 Hotel Arizona
14 Monday
15 Kingpin
16 Outtasite (Outta Mind)
Encores:
17 Box Full Of Letters
18 Casino Queen
19 [The Deli Tray Incident]
20 We've Been Had
21 The Long Cut
22 Dreamer In My Dreams
23 Will You Love Me Tomorrow

If you download this recording PLEASE SUPPORT THIS ARTIST and buy their official releases at their website, or click the link below to buy the classic Being There album from this tour: