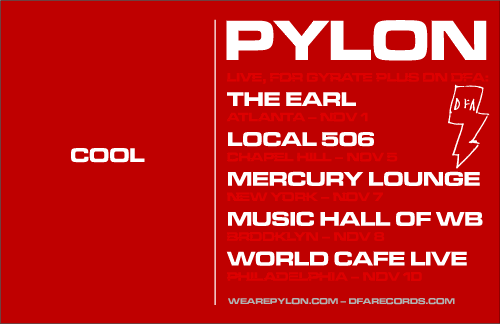 Pylon, the best band ever produced by Athens Georgia (at least according to Billy Berry from R.E.M.) comes to NYC for two shows later this week in celebration of the long-overdue CD release of the post-punk masterpiece Gyrate
.
Pylon were an active band from 1980-83, and produced two seminal albums, Gyrate and Chomp. In the late 80's and early 90's, they reformed for Chain, and toured briefly. I was fortunate to see Pylon at a club in the back of the Palladium in 1988.
Pylon has agreed in advance to permit my recording of the Mercury Lounge show. As I do with most acts, I contacted them through their website. Instead of a formal reply, I received a quick and friendly personal response from bass player Michael, which is much appreciated.
Pylon will also perform at the Music Hall of Williamsburg on November 8.
PLEASE SUPPORT Pylon and visit their website.