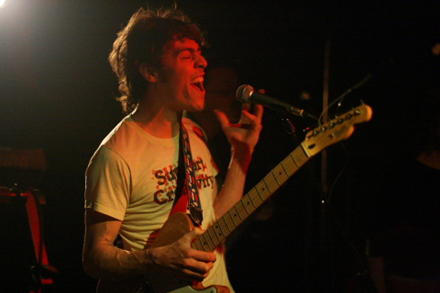 The aptly-named Bloodsugars performed a short but, um, sweet set at the After The Jump Fest indoor Galapagos stage on June 21. The silky-smooth tenor belongs to lead vocalist Jason Rabinowitz, whose life-long battle with diabetes provides the basis for name of the band. The new 2008 release EP on Engine Room is entitled BQEP, and features six songs of addictive power-pop. The nyctaper recording offered below features five unreleased songs, the high quality of which bodes well for an anticipated full-length release.
This outstanding capture is a soundboard/audience "matrix" mix recorded in the same location and with the same equipment as our Brilliant Sweaters recording featured here a couple of weeks ago. Enjoy!
After The Jump is a charitable organization of NYC music bloggers who donate all proceeds of their events to the advancement of music in NYC schools. nyctaper requests that if you download this recording, that you support this cause. Selected tracks from the recordings to be featured on this site from the ATJ Festival will be produced into a compilation, with all proceeds being donated to the music programs in NYC schools. When the compilation becomes available, all nyctaper readers who downloaded ATJ sets will be expected to purchase the release.
Direct download of MP3 files (HERE)
Download the Complete show in FLAC [HERE].
Bloodsugars
2008-06-21
Galapagos Main Stage
After The Jump Festival
Brooklyn, NY USA
Digital Master Recording
Soundboard/Audience Matrix
Soundboard + Front of Board Neumann KM-150s > Edirol UA-5 (Oade Digimod) > digital coaxial > M-Audio Microtrack 24/96 > 16bit 44.1kHz wav file > Soundforge (set fades, level adjustments) > CD Wave 1.95 > Flac Frontend (level 7, align sector boundaries) > flac
Recorded and Produced by nyctaper
2008-06-29
Setlist:
[total time 27:29]
01 Falling Makes You Blue
02 Priorities
03 You've Gone Wrong
04 Happiness
05 I Want It Back
06 Bloody Mary
If you email nyctaper for access to this recording, we expect that you will PLEASE SUPPORT Bloodsugars, visit their website, visit their myspace page, and purchase their new EP BQEP directly from the Bloodsugars Store or the Engine Room Store.