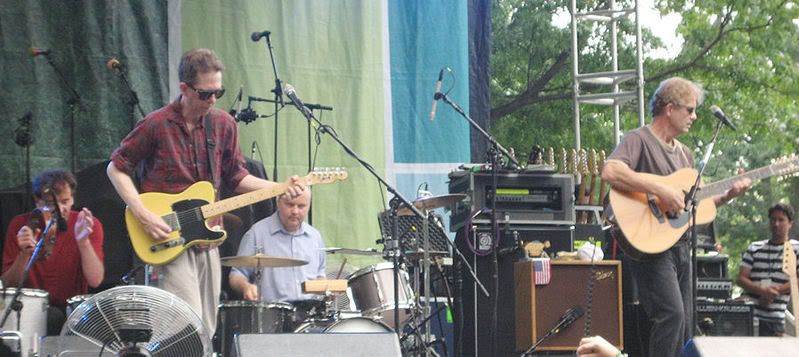 [photo by neil d] [higher resolution photos (HERE) and (HERE)]
Our Intrepid Correspondent Reports:
The weather report was for a high of 80 with a 50% chance of thunderstorms — so of course the day turned out to be hot and muggy with almost no rain to speak of. I arrived at 12:45 for 2 pm doors, expecting a huge crowd wanting to get there early for the Feelies. Instead, I was maybe the 50th person on line, and got a prime spot about 30 feet from the stage, right in front of the stage-right speakers.

The Feelies were just great – I'd never seen them live before except on video, but it didn't seem like they'd missed a beat after their 16-year layoff. Watching Dave Weckerman play whatever bit of percussion he was responsible for at any moment (a tambourine, a maraca) as if it took every fiber of his being was especially great fun. Ira Kaplan was about ten feet directly in front of us, rocking out for the entire Feelies set.

Sonic Youth were excellent as well, with a set heavy on songs from Daydream Nation. (Hey Joni, Silver Rocket… several others, I forget which right now.) Kim Gordon looks amazing for a 55-year-old. Anyway, you can hear the SY set on WFMU's site, if you haven't already.

Afterwards, we sat on the Battery Park lawn finishing our picnic food and watching the eight billion fireflies, then headed over to the East River for the fireworks. The fireworks themselves were great, though, so hard to complain about any part of the day.
A regular nyctaper reader pointed us to his ebay auction for a Feelies rarity — the limited edition promotional Away EP autographed by all of the Feelies. All proceeds from this auction will be donated to the charity of choice of the winning bidder!


The Recording:
As our recorder noted to me, the stacks were very bass heavy, and as a result quite a bit of EQ was applied in post-production. This is a clear upfront recording which is subject only to the limitations of the sound system and the outdoor conditions. Enjoy!
Direct download of MP3 files (HERE)
Download the Complete show in FLAC [HERE].
The Feelies
2008-07-04
Battery Park
New York, NY USA
Digital Audience Master Recording
Recorded 30 Feet from Right PA Stacks
CoreSound Binaurals > MM-EBM-1 battery box > Sony MZ-NH900 > Audiophile 2496 > Sound Studio > 16bit 44kHz wav file > Soundforge 8.0 (set fades, level adjustments, EQ) > CD Wave (tracking) > Flac Frontend (level 7, align sector boundaries) > flac
Recorded by neil d
Produced by nyctaper
2008-07-06
Setlist
[total time 46:22]
01 [introduction]
02 On The Roof
03 The High Road
04 Nobody Knows
05 Let's Go
06 Higher Ground
07 Away
08 Time is Right
09 Slipping (Into Something)
10 Doin' It Again
11 Raised Eyebrows
12 Crazy Rhythms
13 [encore break]
14 Outdoor Miner (Wire)
15 Fa Ce-La
If you email nyctaper for access to this recording, we expect that you will PLEASE SUPPORT The Feelies and visit their official MySpace page, and purchase their official releases at various commercial outlets. They are working on new songs. Purchase their new CD when it is released!