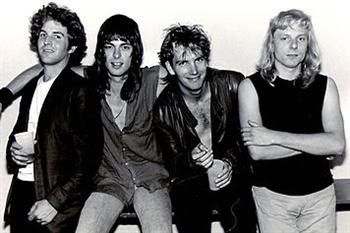 The Dream Syndicate
"Welcome to 1983!" was Steve Wynn's facetious introduction last night before he and his current band The Miracle 3 performed the entire classic album The Days of Wine and Roses from Steve's previous band The Dream Syndicate. Ultimately, the return to 1983 was not entirely accurate. The twenty-five years have given Wynn the maturity and perspective to perform the album — the title of which refers to the fleeting nature of time — with a sense of purpose and direction. Technically the performance was top notch, with all instruments tight and focused at the proper moments and loose and relaxed when the band opened up to flesh out the songs. Of particular note was the jam in "Halloween" that reached an energetic crescendo, and the closing title track where Steve brought the band down to silence before ending the song with a fury. We anticipated that this performance would be special, but Steve Wynn & The Miracle 3 exceeded all of our expectations.
We recorded with the matrix mix we have used for each of our recordings at Maxwell's this year. The Neumann microphones were mounted at the front of the soundboard booth and raised to eight feet, and were mixed with a feed from the board. The results are absolutely outstanding. We are extremely pleased to have captured this historical performance with a special recording. Enjoy!
Many thanks to Steve Wynn for permission to record this performance and for his invitation to the soundcheck. The quality of this recording is a tribute to this artist.
This recording is available for download as FLAC or MP3 at Archive.org [HERE].
Steve Wynn & The Miracle 3
2008-07-25
Maxwell's
Hoboken, NJ USA
Digital Master Recording
Soundboard/Audience Matrix
Soundboard + Front of Board Neumann KM-150s > Edirol UA-5 (Oade Digimod) > digital coaxial > M-Audio Microtrack 24/96 > 24bit 48kHz wav file > Soundforge (set fades, slight level boost, downsample, dither) > CD Wave 1.95 > Flac Frontend (level 7, align sector boundaries) > flac
Recorded and Produced by
nyctaper
2008-07-26
Setlist:
[Total Time 55:28]
The Days of Wine and Roses
01 [introduction]
02 Tell Me When Its Over
03 Definitely Clean
04 That's What You Always Say
05 Then She Remembers
06 Halloween
07 When You Smile
08 Until Lately
09 Too Little, Too Late
10 The Days of Wine and Roses
11 [encore break]
12 Season of the Witch (Donovan)
If you email nyctaper for access to this recording, we expect that you will PLEASE SUPPORT Steve Wynn, visit his website, visit his MySpace page, and purchase his official releases from the Steve Wynn Store at his website.