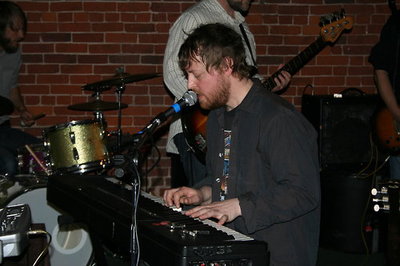 Darren Jessee has found his own voice — and it is melodic, melancholy, poignant and ultimately hopeful. Eight years after the premature demise of one of the 1990's greatest alt-pop bands, it has become abundantly clear which member of Ben Folds Five was responsible for the serious and profound songs (i.e. "Brick"), and the intricate vocal harmonies. With Hotel Lights brand new CD Firecracker People, former BFF drummer/songwriter/vocalist Darren Jessee has produced an album of rich melodies, sweet harmonies, and lyrics that speak of the difficulties in finding your own voice. When Jessee sings in "Your Choice" of having "spent years keeping part of yourself down", its as if Firecracker People is both his coming out party and his long-awaited triumph.
On Tuesday night, Hotel Lights celebrated the release of Firecracker People with a set at Mercury Lounge. The live version of the band is tight and faithful to the recorded songs, and Darren is clearly the focus. He conducts himself with modesty and humor on stage, but when the music begins the songs are voiced with precision and confidence. We expect to see much more of Hotel Lights in the future and expect that the new CD will see many spins in our deck.
This concert was recorded from our standard location at the Mercury Lounge, slightly in front of the board and to the right. This is a recording of fine clarity and the cardioid microphones and the height of the microphone pole avoided much of the moderate chatter in the back of the room. Enjoy!
Direct download of MP3 files (HERE)
Download the Complete show in FLAC [HERE].
Hotel Lights
2008-08-19
Mercury Lounge
New York, NY USA
Digital Master Recording
Recorded from Front of Board
Neumann KM-150's > Monster Cable > Apogee Mini-Me > digital coax > M-Audio Microtrack 24/96 > 24bit 48kHz wav > Soundforge 8.0 (level adjustments, downsample) > CD Wave 1.75 > Flac Frontend (level 7) > flac
Many thanks to Darren for permission to record and Bar/None for the invite.
Recorded and Produced by nyctaper
2008-08-23
Setlist:
[Total time 43:54]
01 [introduction]
02 Blue Always Finds Me
03 Dream State Flying
04 Down
05 Chemical Clouds
06 Flicker in My Eye
07 Amelia Bright
08 Firecracker People
09 Nobody Let You Down
10 Marvelous Truth
11 Norina
If you email nyctaper for access to this recording, we expect that you will PLEASE SUPPORT Hotel Lights, visit their website, visit their MySpace page, and purchase their new CD Firecracker People at the Bar/None Records Website [HERE].