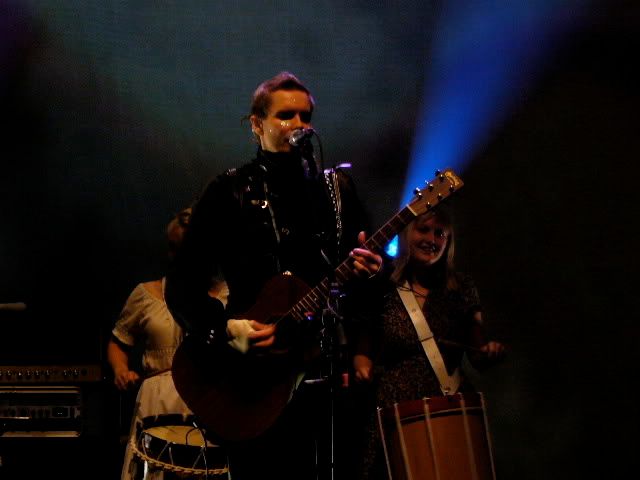 [photo courtesy of The Music Slut blog]
The second night of Sigur Ros 2-night run at United Palace was another amazing performance which was executed to perfection. Although Jonsi again apologized for high notes not reached during "Svefn-G-Englar", the balance of the evening was flawless — the songs, the lighting, the stage backdrop, the props, and even the drumming accompaniment on "Gobbledigook". We would have preferred some variety to the setlist, but the debut performance of "Illgresi" from the new CD Með suð í eyrum við spilum endalaust in the first encore slot was quite special.
We recorded this show from the second row of the "upper" loge, which given the layout of the balcony of this venue is actually geographically closer to the stage than our floor seat from the previous evening. We were fortunate to have a direct line to the PA stacks and as a result this recording has excellent clarity and balance. We believe this recording improves upon the quality of the first night. Enjoy!
Direct download of MP3 files (HERE)
Download the Complete show in FLAC [HERE].
Sigur Ros
2008-09-18
United Palace Theatre
New York, NY USA
Digital Audience Master Recording
Recorded from Upper Loge Row B Right Side
DPA 4021's > Marantz PMD-660 (Oade BCM) > 16bit 44.1 wav > Soundforge (set fades, level boost, slight eq) > CDWave 1.95 (tracking) > Flac Frontend (level 7, align sector boundaries) > flac
Recorded and Produced by
nyctaper
2008-09-19
Setlist:
[Total Time 1:50:26]
01 Svefn-G-Englar
02 Glósóli
03 Ný Batteri
04 Fljótavík
05 Við Spilum Endalaust
06 Hoppípolla
07 Með Blóðnasir / Svo Hljótt
08 Heysátan
09 Viðrar Vel Til Loftárása
10 Inní Mér Syngur Vitleysingur
11 Sæglópur
12 Hafsól
13 Gobbledigook
14 [encore break]
15 Illgresi
16 Popplagið
If you email nyctaper for access to this recording, we expect that you will PLEASE SUPPORT Sigur Ros, visit their website, visit their MySpace page, and purchase their new CD Með suð í eyrum við spilum endalaust directly from their website.