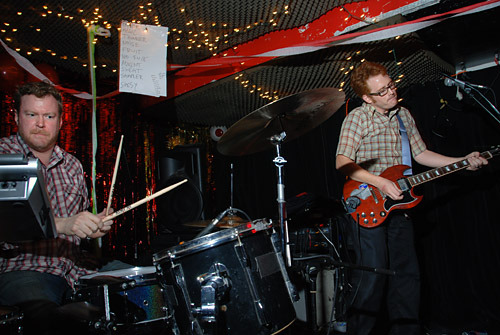 [photo by Impose]
We arrived at Cake Shop on Friday a couple of songs into Rafter's set opening for The Loom. One of the members of The Loom was standing near the stage and when we approached to say hello, he immediately suggested that we tape this artist. Rafter was in the midst of a wildly impressive set of his frenetic diy approach to pop. Accompanied by a digital tape machine and a live drummer, Rafter employed an energetic stage presence and "talk box" to fine effect.
We recorded only half the set from the same location at our Loom recording. The sound quality is superb. Enjoy!
Direct download of MP3 files (HERE)
Download the partial recording in FLAC [HERE].
Rafter
2008-11-21
Cake Shop
New York, NY USA
Digital Master Recording
Recorded from Upfront
10 Feet from the PA
DPA 4021s > Edirol UA-5 (Oade Digimod) > digital coaxial > M-Audio Microtrack 24/96 > 24bit 48kHz wav > Soundforge 8.0 (level adjustments, downsample 16/44) > CD Wave > Flac Frontend (level 7, align sector boundaries) > flac
Recorded and Produced by nyctaper
2008-11-25
Setlist:
[total time 19:31]
[missing first 5 songs]
01 Thunderclap
02 No Fucking Around
03 Salt
04 Juicy
05 ZZZPenchant
If you email nyctaper for access to this recording, we expect that you will PLEASE SUPPORT Rafter, visit his MySpace page, and purchase his official releases from the Asthmatic Kitty Records website [HERE].