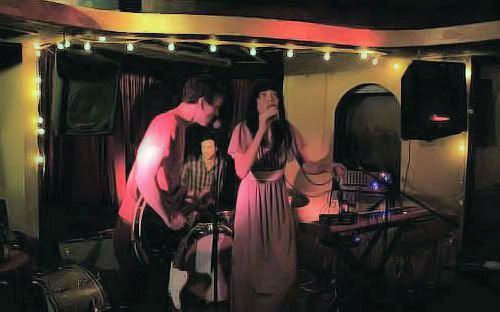 Treasure is a fairly new trio from Brooklyn, although all three members are veterans of the local music scene — vocalist Amanda Tomme performed most recently with The Phenomenal Handclap Band, Caleb Lindskoog plays guitar with local rockers The Silver State, and Ryan Trott has played with the folk band Hologram. Treasure is built around the emotive and throaty vocals of Tomme, the full-bodied chord work of Lindskoog and tasteful and appropriate percussion by Trott. Each member compliments the others with grace, and as a result the songs are well balanced, richly melodic and melancholic without being gloomy. The new Treasure CD is called Tea Parties and is available in individually hand-painted 300 limited numbered copies.
We captured Treasure's outstanding recent live performance at Glasslands. The show was recorded from the video-projection desk in the front of the balcony and the sound quality is excellent. Amanda's vocals were originally mixed low, but that deficiency was corrected quickly. Enjoy!
Treasure will perform three local shows in the next few weeks:
Dec 10 2008 Union Hall Brooklyn
Jan 07 2009 Zebulon Brooklyn
Jan 19 2009 Under St. Marks Told Reading Series NYC
Direct download of MP3 files [HERE]
Download the Complete show in FLAC [HERE].
Treasure
2008-11-25
Glasslands Gallery
Brooklyn, NY USA
Digital Master Recording
Recorded from Front of Board
Microphones on Video Station in Front of Balcony
15 Feet from Main PA Stacks
DPA 4021s > Edirol UA-5 (Oade Digimod) > digital coaxial > M-Audio Microtrack 24/96 > 24bit 48kHz wav > Soundforge 8.0 (level adjustments, downsample 16/44) > CD Wave > Flac Frontend (level 7, align sector boundaries) > flac
Recorded and Produced by nyctaper
2008-11-30
Setlist:
[total time 28:45]
01 We Were Hunted
02 White Wake
03 Shapeless
04 Arrowheads
05 Rainbow
06 In Hawaii
07 My Feather
If you email nyctaper for access to this recording, we expect that you will PLEASE SUPPORT Treasure, visit their website, visit their MySpace page, and purchase their limited edition CD from the links at the Treasure MySpace page.