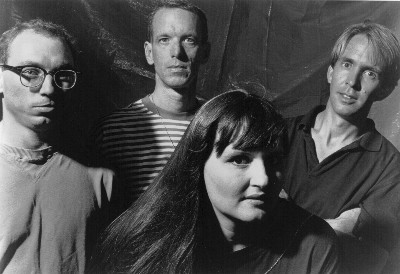 Randy Bewley was a profoundly original guitarist and an incredibly nice man. The night after we recorded Pylon at the Knitting Factory in December, we ran into Randy, Michael and Vanessa at the Of Montreal show at Music Hall. The three were just so friendly and complimentary and seemed to just be having such fun with the new life of Pylon. Randy in particular was so buoyant that we were certain that Pylon would continue for however long they wished. Tragically, that will not be the case. Randy suffered a heart attack on Monday and this afternoon he passed away in Athens.
Pylon has posted the following message:
We love Randy
This past Monday evening, Randy Bewley had a heart attack while driving his van on Barber Street in Athens, GA. He was taken to Athens Regional Medical Center. Today, our bandmate and brother passed away at a little before 5 p.m. with his family and friends at his side. He will be missed, even as we celebrate his life and creativity. His guitar sound was as special as he was and always will be. Randy's guitar work defined not only a generation of sound but Randy himself. His visual art, painting and photos, combined with his signature sound formed a loose set of boundaries that helps understand him. His quiet devotion to family and friends will become a benchmark for those he leaves behind.