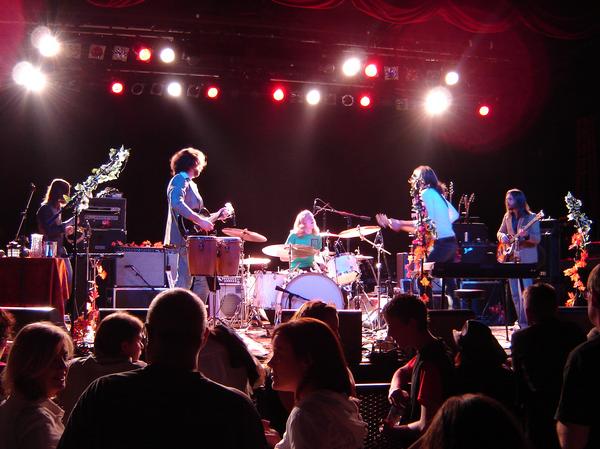 [photo by Matt Wolhtman]
What Laura Says is an excellent quintet from Tempe Arizona who write and perform ambitious cross-genre pop songs. The band signed to the Terpsikhore Collective label after they caught the ear of The Annuals and released their debut self-titled album last August. On Wednesday last, What Laura Says opened the night at Bowery Ballroom with an outstanding forty-minute set that conjured up influences from Sunflower/Surf's Up-era Beach Boys to Zappa to 70's Prog to the Flying Burrito Brothers. We were particularly moved by the melodic changes and creative energy of the second number, "Couldn't Lose Myself If I Tried". What Laura Says are currently on a lengthy tour with The Annuals that will carry them across the country for the next six weeks, before they finish with a week at SXSW.
We recorded this set from the identical location as The Annuals and Jessica Lea Mayfield recordings and the sound quality is superb. Enjoy!
Direct download of MP3 files (HERE)
Download the Complete show in FLAC [HERE].
What Laura Says
2009-01-28
Bowery Ballroom
New York, NY USA
Digital Master Audience Recording
Recorded from Balcony Rail
Next to Soundboard
Neumann KM-150's (AK-50 Hypercardiod Capsules) > Apogee Minime > digital coaxial > M-Audio Microtrack > 24bit 48kHz wav files > Soundforge (set fades, slight level adjustments, downsample) > CD Wave 1.95 (tracking) > Flac Frontend (level 7, align sector boundaries) > flac
Recorded and Produced
by nyctaper
2009-02-05
Setlist:
[Total Time 38:01]
01 Fashionably Moral
02 Couldn't Lose Myself If I Tried
03 1000 Faces
04 [new song?]
05 Waves
06 Done What's Right
07 Illustrated Manual
If you email nyctaper for access to this recording, we expect that you will PLEASE SUPPORT What Laura Says, visit their website, visit their MySpace page, and purchase their new CD directly from the Terpsikore Collective site
[HERE].