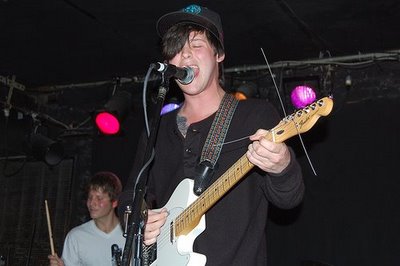 [photo by the Starks]
Less than two months after their NYC debut, Wavves returned to play three shows in three venues last weekend. We were able to capture the last of those three — Monday night at the Merc. In the interim, Wavves has toured extensively through Europe, performed at nine SXSW showcases, and released Wavvves through Fat Possum Records. Wavves has survived the initial manic buzz, and the good news is that the band's current popularity seems more based on its music rather than the hype. NYCTaper correspondent acidjack reports that there was an extensive line to get into Mercury Lounge this night, but as we can hear on the recording, the packed house spent most of the set listening rather than yapping.
This is a superior recording to the February nyctaper recording from Market Hotel. The live Wavves sound is significantly less saturated than the albums, and the result is a clear listening experience. Enjoy!
Direct download of MP3 files (HERE)
Download the Complete show in FLAC [HERE].
Wavves
2009-03-30
Mercury Lounge
New York, NY USA
Digital Master Recording
Recorded from Front of Board Center
DPA 4061 (Coresound HEB) > CoreSound Battery Box (no bass Rolloff)> Edirol R-09HR > 24bit 48kHz wav > Soundforge 8.0 (level adjustments, set fades) > CD Wave > Flac Frontend (level 7, align sector boundaries) > flac
Recorded by acidjack
Produced by nyctaper
2009-04-08
Setlist:
[Total time 24:28]
01 Beach Demon
02 Summer Goth
03 So Bored
04 California Goths
05 To The Dregs
06 Friends Were Gone [unreleased — soon to be released on Fader 7′ Series]
07 No Hope Kids
08 Wavves
setlist help from MikeG
If you email nyctaper for access to this recording, we expect that you will PLEASE SUPPORT Wavves, visit their website, visit their MySpace page, and purchase their available releases through links at the Wavves MySpace page, and at Fat Possum Records site [here].