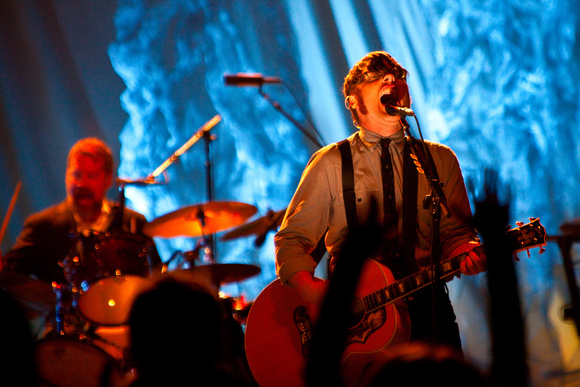 [photo courtesy of Tinnitus Photography]
Radio City Music Hall was the perfect venue for the Decemberists to present The Hazards of Love in its entirety. On Wednesday night, the band took to the big stage with an impressive backdrop and excellent mood lighting. The Hazards of Love narrates a fantasy story of forest-dwellers that seemed appropriate for the venue's proximity to Broadway. As the Decemberists performed the album straight through as a suite, the strength of the music and the performance were as breathtaking as the setting. The guest performers Shara Worden and Becky Stark, outstanding artists in their own right, were strong complimentary figures who did not outshine the star of the evening — singer, guitarist and composer Colin Meloy.
We recorded from an outstanding location in this venue with our best mobile rig. We sat three rows directly in front of the soundboard in the dead center of the room. The sound for this cavernous venue was quite excellent, but we were unluckily seated next to three guys who felt compelled to scream like little girls on a regular basis. While they do not ruin the recording, their persistent idiocy is nevertheless apparent on many occasions during the recording. With that caveat, enjoy what is an excellent capture of a superb concert!
This Recording is now available for Download in FLAC and MP3 at Archive.org [HERE].
The Decemberists
2009-06-10
Radio City Music Hall
New York, NY USA
Digital Master Recording
Recorded from 3 Rows in Front of Soundboard
Dead Center Row E
DPA 4021's > Marantz PMD-660 (Oade BCM) > 16bit 44.1 wav > Soundforge (set fades, level boost, slight eq) > CDWave 1.95 (tracking) > Flac Frontend (level 7, align sector boundaries) > flac
Recorded and Produced by
nyctaper
2009-06-13
Setlist:
Set 1: The Hazards of Love
[Total Time 56:42]
01 Prelude
02 The Hazards of Love 1
03 A Bower Scene
04 Won't Want for Love
05 The Hazards of Love 2
06 Isn't It a Lovely Night?
07 The Wanting Comes in Waves
08 An Interlude
09 The Rake's Song
10 The Abduction of Margaret
11 The Queen's Rebuke
12 The Crossing
13 Annan Water
14 Margaret in Captivity
15 The Hazards of Love 3
16 The Wanting Comes in Waves (Reprise)
17 The Hazards of Love 4
Set 2
[Total Time 53:35]
01 //The Crane Wife 3
02 July, July!
03 Billy Liar
04 Sleepless
05 The Bachelor and the Bride
06 Dracula's Daughter
07 O Valencia!
08 The Chimbley Sweep
09 Crazy on You (Heart)
10 [encore break]
11 Begin the Begin (REM)
12 Sons and Daughters
If you email nyctaper for access to this recording, we expect that you will PLEASE SUPPORT The Decemberists, visit their website, and purchase their official releases from the Decemberists Shop at their website [here].