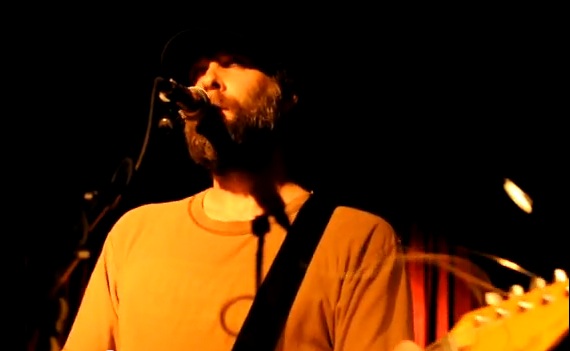 [photo still from this video]
"Feel about the same but I'm 10 years older" sings Doug Martsch in the Built to Spill classic "Three Years Ago Today". It was ten years ago when Built to Spill last played at Maxwell's, on a unseasonably balmy night in late October of 1998. I recorded that show (the early set) by patching into the soundboard along with another guy who I knew from seeing around at shows. Ten years later that same guy (Erik) and I are friends, and he thankfully repeated history and brought to nyctaper a recording of this week's return of Built to Spill to Maxwell's.
This week's show contains other eerie similarities a decade removed, particularly in the setlist. "Three Years" performed second on the list on Sunday, was the opener of the 1998 show, and "Kicked it in the Sun", now a BTS classic, was performed as an untitled "new song" in 1998. As he did 10 years ago, Doug also opened up the floor for requests, which led this week to some of the older material rarely played these days, including "Virginia Reel Around the Fountain" and "Nowhere Nothin' F Up", both also repeats 10 years later.
As Built to Spill gear up to release There Is No Enemy this fall, expect to see much more of this band on nyctaper. Preliminarily, we plan to record each of the four NYC shows in October (Webster Hall and Music Hall of Williamsburg).
This recording would not have been possible with the contributions of many people, but primary thanks to Erik for recording and to Doug Martsch, who agreed in an extremely friendly and generous email to permit this recording to be posted here. Its a soundboard feed from Maxwell's, which is an excellent venue with talented staff. The sound is quite excellent if a tad bit high in vocals as are all board recordings. Enjoy!
Direct download of MP3 files (HERE)
Download the Complete show in FLAC [HERE].
Built To Spill
2009-07-19
Maxwell's
Hoboken, NJ USA
Digital Master Soundboard Recording
Soundboard > Edirol R09 > 24bit 48kHz wav file > Soundforge (level adjustments, downsample, set fades) > CDWave 1.95 (tracking) > Flac Frontend (level 7, align sector boundaries) > flac
Recorded by Erik B
Produced by nyctaper
2009-07-25
Setlist:
[Total Time 1:48:40]
01 Traces
02 Three Years Ago Today
03 Strange
04 Stop The Show
05 Else
06 Time Trap
07 Kicked It In The Sun
08 In The Morning
09 Hindsight
10 Nowhere Nothin' Fuck Up
11 One Thing
12 Virginia Reel Around The Fountain
13 Broken Chairs
14 In Your Mind
f you email nyctaper for access to this recording, we expect that you will PLEASE SUPPORT Built To Spill, visit their MySpace page, and purchase their official releases from the Built to Spill Store [here].