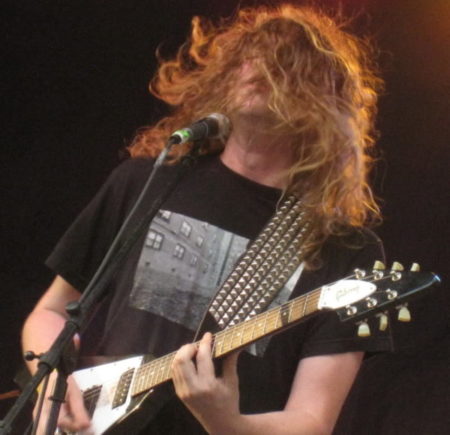 [photo courtesy of Pat at Pop Tarts Suck Toasted blog]
Punk rock in the Oval. It would have been an absurd concept a few years ago when residents were not even allowed on the grass. Last night, residents and non-residents alike actually slam-danced on the green. As Music on the Oval evolves and the artists continue to grow in stature, anything has become possible. Last night, Jay Reatard buzz-sawed through 14 songs in 33 minutes, as the packed oval witnessed an artist in control of his sometimes manic music. Despite the cynicism and negativity spewed about this odd pairing of the punk rocker and the residents, Jay proved a creative figure completely unwilling to pander. This was not "family" music, but it was completely authentic and compelling nonetheless.
We received kind assistance from the production crew, and with Jay's blessing recorded this set from the best possible location at the front of the fenced-in soundboard area. The system was quite solid and as a result, this is really an extraordinary capture. Enjoy!
Direct download of MP3 files (HERE)
Download the Complete show in FLAC [HERE].
Jay Reatard
2009-07-01
Stuyvesant Town Oval Music
New York, NY USA
Four-Track Digital Master Recording
Recorded from Front of Board Center
30 Feet From Stage
Neumann KM-150s + DPA 4021's > Edirol R-44 (Oade Concert Mod) > 2x 24bit 48kHz wav files > Soundforge (level adjustments, mixdown, set fades) > CDWave 1.95 (tracking) > Flac Frontend (level 7, align sector boundaries) > flac
Recorded and Produced by
nyctaper
2008-07-02
Setlist:
[Total Time 33:25]
01 Blood Visions
02 Nightmares
03 Fading All Away
04 Trapped Here
05 Greed, Money, Useless Children
06 All Over Again
07 I'm Watching You
08 Its So Easy
09 Not A Substitute
10 Oh Its Such a Shame
11 See Saw
12 Hammer I Miss You
13 Waiting For Something
14 Let It All Go
If you email nyctaper for access to this recording, we expect that you will PLEASE SUPPORT Jay Reatard, visit his website, visit his MySpace page, and purchase his official releases from the Shattered Records links at Jay's website [here].