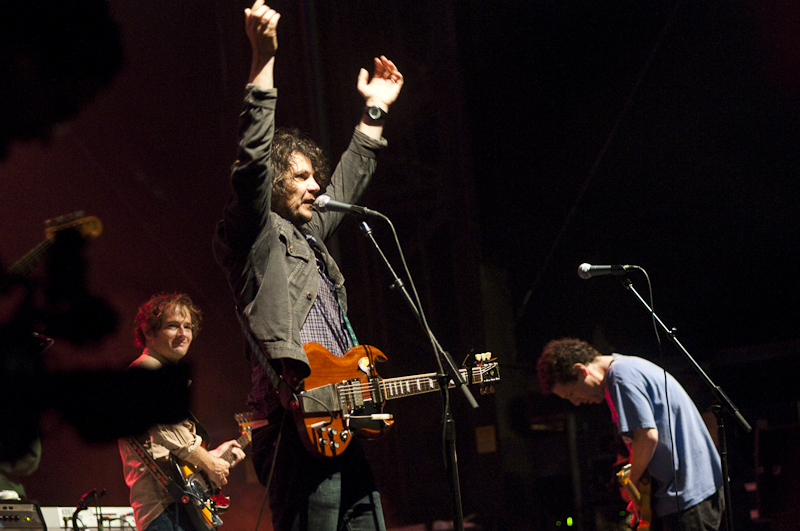 [photo courtesy of Ryan Muir]
Wilco have given me, as a fan, literally everything one could ask. In twenty shows over thirteen years, I have seen them perform at intimate venues (Mercury, Irving), at Festivals (Fleadh), and at celebratory events (New Year's '04). They consistently perform extended two-hours-plus shows. They permit fans to record audio and freely share the concerts. Wilco have released nearly a decade and a half of consistently excellent albums.
Last night at Keyspan Park, they provided another unexpected and thoroughly mindblowing gift. Wilco brought the incomparable Yo La Tengo onstage to perform as two bands together the most appropriate Wilco song for the occasion "Spiders". As two of my favorite bands of all time completely shredded the 13-minute song, it was hard to determine whether the ice chills were from the event or the cold winds coming off the beach. Historical, indeed.
The balance of this concert was standard Wilco excellence – with five songs from the new Wilco (The Album) sprinkled among twenty-six career spanning songs (no AM songs, though). The two-hours and twenty-one minute running time was a mere two minutes short of last year's McCarren Pool marathon.
I recorded this set with the four-microphone rig from a location at the front inside of the soundboard area. The major impediments were distance (estimated at 300 feet), and occasional strong winds from the west. There was some chatter in the area in front of the board — what amounted to the rear of the field section, but its less of a factor than the elements. While this recording does not provide the same quality as last year's McCarren recording, or the 2007 recording from Hammerstein, it is nevertheless a fair reproduction of the concert experience and a fine listen. Enjoy!
The Yo La Tengo set was also recorded and will appear on nyctaper in the near future.
Direct download of MP3 files (HERE)
Download the Complete show in FLAC [HERE].
Wilco
2009-07-13
Keyspan Baseball Park
Brooklyn, NY USA
Digital Master Audience Recording
Recorded from Inside Soundboard Area
300 Feet from the Stage
Neumann KM-150s + DPA 4021's > Edirol R-44 (Oade Concert Mod) > 2x 24bit 48kHz wav files > Soundforge (level adjustments, mixdown, set fades) > CDWave 1.95 (tracking) > Flac Frontend (level 7, align sector boundaries) > flac
Recorded and Produced
by nyctaper
2009-07-14
Setlist:
[Total Time 2:21:51]
01 Wilco (The Song)
02 I Am Trying to Break Your Heart
03 Shot in the Arm
04 At Least That's What You Said
05 Bull Black Nova
06 You Are My Face
07 One Wing
08 Handshake Drugs
09 Deeper Down
10 Impossible Germany
11 [banter / Take Me Out to the Ballgame]
12 Jesus Etc.
13 Sonny Feeling
14 I'm Always in Love
15 Can't Stand It
16 Hate it Here
17 Walken
18 I'm the Man Who Loves You
19 Hummingbird
20 [encore break]
21 Heavy Metal Drummer
22 You And I [with Feist]
23 California Stars
24 You Never Know
25 Misunderstood
26 Spiders (Kidsmoke) [with Yo La Tengo!]
27 [second encore break]
28 The Late Greats
29 Hoodoo Voodoo
If you email nyctaper for access to this recording, we expect that you will PLEASE SUPPORT Wilco, visit their website, visit their MySpace page, and purchase their official releases at their website [here].