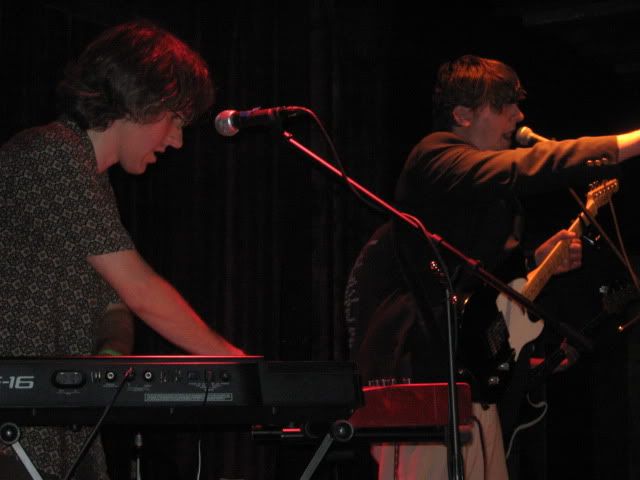 Last Wednesday, My Teenage Stride headlined the latest of Jonny Leather's excellent charity concerts at Bell House. The band's thirty minute set encapsulated what makes MTS such a compelling act to follow. The intelligent songs are influenced by garage pop, eighties underground, and a thousand other genres in between. While the band retains a sense of humor and looseness on stage, the precise songcraft of protagonist Jedediah Smith remains undeniable.
My Teenage Stride is in the midst of a short East coast tour in August that will culminate in their appearance on the first night of the After The Jump Fest at Littlefield on Friday August 28.
We recorded this set from the raised area next to the soundboard and the sound quality is excellent. Enjoy!
Direct download of MP3 files (HERE)
Download the Complete show in FLAC [HERE].
My Teenage Stride
2009-07-22
The Bell House
Brooklyn, NY USA
Digital Audience Master Recording
Recorded from Soundboard Area
Neumann KM-150s + DPA 4021s > Edirol R-44 (Oade Concert Mod) > 2x 24bit 48kHz wav files > Soundforge (level adjustments, mixdown, set fades) > CDWave 1.95 (tracking) > Flac Frontend (level 7, align sector boundaries) > flac
Recorded and Produced by nyctaper
2009-08-05
Setlist:
[Total Time 29:56]
01 That Should Stand For Something
02 Creep Academy
03 They Are Alone In Their Principles
04 Ears Like Golden Bats
05 [banter – band introductions]
06 Heart Shackles
07 Red Nurse
08 Reversal
09 XO Freedom Rider
10 Cast Your Own Shadow
11 Live And Die in the Airport Lounge
If you email nyctaper for access to this recording, we expect that you will PLEASE SUPPORT My Teenage Stride, visit their website, visit their MySpace page, and purchase their official releases from the links at the Music page on their website [HERE].