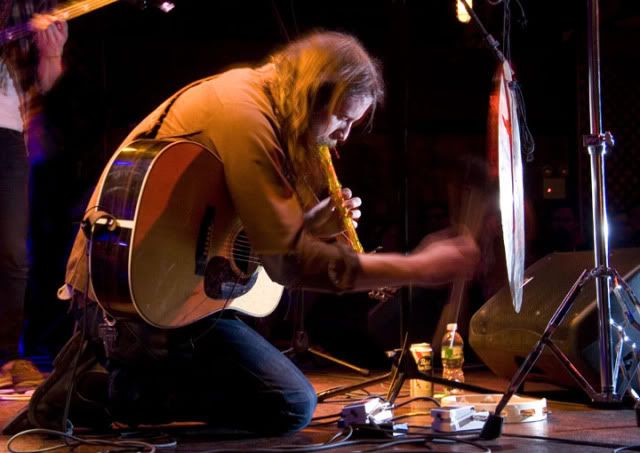 [photo courtesy of David Wells]
Shortly after J. Tillman performed at Bell House in Brooklyn, a concert recorded by nyctaper, the writer Jarrod Dicker interviewed Josh for the site. This is the third installment of Jarrod's interview series for NYCTaper.
Josh Tillman doesn't really listen to that much music. His creative influences span beyond any restrictive constraints within a specific artistic genre and thus produce a product dissimilar to a lot of the music throughout the scene today. However, for someone who doesn't listen to music, he sure as hell produces a lot of it.
Year in the Kingdom released on September 22nd and marks the seventh studio album written by Tillman since 2005. Not only that, this is his second album released this year following the January release of Vacilando Territory Blues. J Tillman is a music making factory and has no intentions of slowing down anytime soon. "I'm already writing another album," he explains to me. "I've been working on a lot of songs for that."
So what else is there to know about the mysterious Fleet Fox? Jarrod Dicker spoke to J about the fan reception of the new album, the recent tour and the philosophies and motives that propel the man behind the beard to continue to create beautiful music.
Meet J Tillman
Jarrod Dicker: Hey Josh, Jarrod Dicker here.

Josh Tillman: How's it going man?

JD: Good Good

JT: Nice

JD: I'm just going to get right into it if you're cool with that.

JT: Cool

JD: How has the audience reception been so far on tour performing the songs from Year in the Kingdom?

JT: Sometimes it goes over really well and sometimes there's a bit of confusion. I think, with a good show, there's usually a potent combination of the two. The live arrangements are so drastically different at times than the album versions aesthetically. But when it works it works really really well. I've been overall pleased with it.

JD: Where did the inspiration draw from to immediately create another record after the release of Vacilando Territory Blues in January?

JT: I think it's just in line with the writing cycle that I've been doing. I've kind of been putting out albums at that pace for a few years now. Really for me, it just feels like a natural pace or cycle. It didn't really feel like a novelty. It was really the pace that I've kept. I think it's really as simple as it's what I love to do. It's not like I tour and do promotional stuff at a volume that prevents me from recording as often as I'd like. It's not like I'm going to make an album and then go on tour for a year and a half straight or anything. I didn't even tour behind the last record.

JD: I've noticed and read that your voice sounds different on this record than the previous six. Was this due to a different recording style or is it meant to translate a different feeling/tone unlike your prior releases?

JT: My voice has changed. I'm a pretty slow learn. We definitely used a different production style on this record as far as close mic'ing everything and going for more pure tones. That was something that was an interesting prospect to me. Just the process of learning what you can and can't do with your voice and trying different deliveries. I never really knew how to sing properly and you get a sense of that on my first few records. But yea, it's a work in progress.

JD: Cool… on this album you play most of the instruments on the tracks. What is your live performance set up like? Do you include many band members? And do you also lug around the many instruments used on the album like the Hammered Dulcimer, Banjo, Recorder, etc?

JT: No, we kind of transposed all of those things. We do have a bunch a symbols, a gong and other stuff. But for the most part I really just kind of transposed all the arrangements into the parameters and the instruments that my friends play. I've never really been too interested in recreating an album exactly as it is into the live setting. I like the freedom of being able to just use the live show as an opportunity to more so deconstruct what's going on in the album than to recreate it, you know?

JD: Definitely and that seems to make for a more exciting and innovative feel in the live setting. And now since you've participated in both solo work and a group (Fleet Foxes), do you favor leaning in one direction over another?

JT: They both serve very different purposes. My role is so drastically different in each one that they aren't even comparable in my mind. I couldn't really say. I enjoy doing both for very different reasons.

JD: What mindset do you have when you enter the studio? It seems that your albums are very artistic and visual, taking on more than just a familiar melodic structure.

JT: Yea. You can't really do anything creative without a source of inspiration. Do you mean…

JD: I'll rephrase. For this specific record and set of songs are they just a group of songs you assembled together or were they meant for the album because they all share an common theme?

JT: Right…Right…Yes the songs all sprang out in one kind of condensed period of time. It wasn't like I just had a bunch of songs lying around. I think the songs serve; well to me the album is a very singular thing. The songs really only exist in concert with each other. I think the songs are representative of something other than just myself and the fact that I write songs. I don't think that was the reason they came into existence.

JD: And now I think your brother's band is backing you on this tour. Do you enjoy collaborating with your brother Zach and how did this particular touring marriage materialize?

JT: We've toured together in Europe a few times now and there's really just nobody else I'd rather do it with. I had to call his manager and get clearance from his booking agent and our promotional firms thought that it would be a good cross synergy situation to have us opening for each other. And just to get cross marketing going on and cross branding for both of our brands. [laughs] Nah I'm just kidding…

JD: Damn I was just thinking, "What the fuck these guys are brothers?"

JT: Yea it was just like the most natural thing in the world, a very natural situation and organic scenario.

JD: You made an album, Long May You Run and I know that the Fleet Foxes have played with Neil Young. On top of that, many reviewers compare your sound to that of the Laurel Canyon 60s crowd. What does Neil mean to you and is he your BIGGEST inspiration musically?

JT: Yea I think as far as a musical influence for sure. A lot of my influences exist outside the realm of music. I don't really listen to THAT much music. I have a few things that I like and Neil Young is one of them. But even with him it's more of a philosophical influence. Just the way he conducts himself and his creative integrity; the narrative art that exists in his albums. All of those facts have been a big influence on me. Certain things like putting out two albums in one year, etc, that idea of, "Well if that's what you feel like doing, do it." There's so much bullshit that you can allow to be a factor in your decision making process and the way that he has never let that contaminate what he does artistically has always been a big influence on me.

JD: Your music, to me, brings a sort of minstrel 1700s quality to it that I find incredibly unique. Where does the inspiration come from to incorporate harmonies and strings to your music?

JT: I'm not sure if I view it in that way. There's an influence in all modern music within the 12th century troubadours when people started writing ballads about earthly love and unrequited love; using music as a way of expressing romantic feeling. That's kind of a pretty vital mean in the development of modern music. But I don't feel any kinship musically to 17th and 18th century times. Definitely some of the schools of thought from the 17th and 18th century are an influence on me, like Decartes but not musically.

JD: You grew up in a religious household that, I'm sure, barred particular music from entering the housing gates. How were you able to access the music that led you to want to lead a life as a musician?

JT: Hmmm…When you're a kid you listen to music in such a different way. I don't know if it's all that important; what you're listening to as a kid. It's all kind of the same. Granted there's some stuff I DID NOT like as a kid but I fell in love with music nonetheless. When you're a kid it doesn't matter how cool or artistically viable the music that you're listening to is. You either fall in love with music or you don't. Some people grow up around cool music and much can be made of that if you want it to. But I know for myself, I came into the music that I listen to now in my adult life like anybody else does, regardless of what you grow up around. I mean there's not really much of interest there that I can speak to. I fell in love with music that probably wasn't that cool or great to me as a child.

JD: What should we expect from J. Tillman going into the New Year?

JT: I'm going to make another album. I've been writing a lot for that, kind of more of the same. Slogging it out and shoveling dirt.

JD: Best of luck with that. Thanks so much for your time Josh.

JT: No problem

JD: Adios

JT: Thanks for your time man