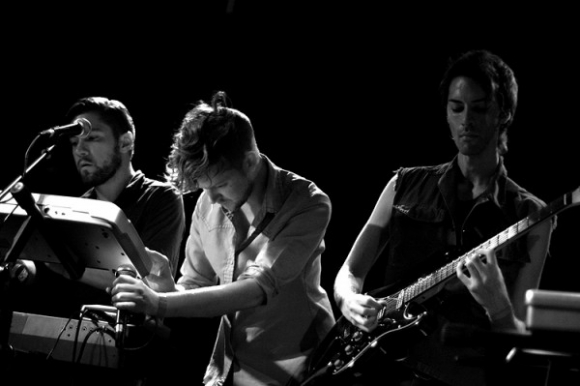 Photo courtesy of Jonny Leather
ArpLine's music fits well into the current musical moment, with rock and electronic elements combining to make a cohesive whole.  Some of their songs fall clearly into the radio-friendly camp ("Parts Unknown"), while others are more atmospheric, such as the Radiohead-referencing "Cap".  While the focus of this excellent bill at Mercury Lounge was on headliners Bear In Heaven and second opener Oh No Ono, ArpLine started the night off extremely strong, giving a set that featured virtually all of their outstanding new album, "Travel Book". Vocalist Sam Tyndall and the band were on point sound-wise, and made the case that their songs translate well in the live setting.  Expect to see this excellent Brooklyn band in a lot more places by the end of this year.
I recorded this set from the same location as the Bear In Heaven recording, but without the soundboard feed.  The quality is excellent and there is almost no crowd noise.  Enjoy!
Direct download of MP3 files (HERE)
Download the Complete show in FLAC [HERE].
ArpLine
2010-01-27
Mercury Lounge
New York, NY
An acidjack master recording
Recorded and produced by acidjack
Hosted at nyctaper.com
Equipment: DPA 4021>Edirol R-44 (24/44.1)
Position: FOB, Center, mics at 8?
Mastering: 24bit/44.1kHz WAV>Audacity (tracking, set fades, amplify each channel)>FLAC ( level 8 )
01 Parts Unknown
02 Game
03 Sound and Versions
04 Weekend in the Colonies
05 Cap
06 banter
07 Make It Rain
08 Rope
09 Amplify
10 Fold Up Like A Piece of Paper
If you email nyctaper for access to this recording, we expect that you will PLEASE SUPPORT ArpLine, visit their website, and purchase their excellent debut album (which is available on a "name your price" basis) from their bandcamp site [here].