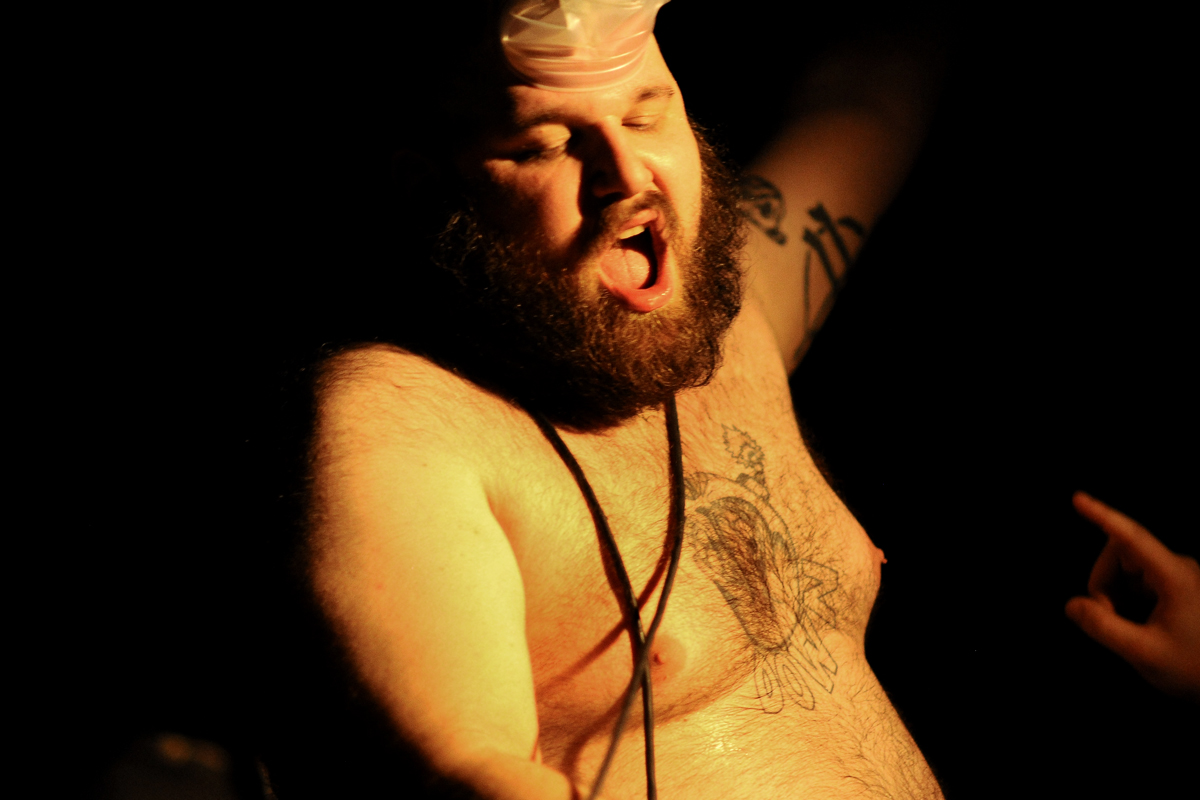 [photos courtesy of Drew Katchen]
Acidjack reports:
"Watching the mighty F*cked Up, you get the sense that lead singer Damian Abraham — such a student and fan of music that the band even has a song about collecting vinyl — studied everything he liked about punk rock shows, and decided to put it all into his own performances. Talk to the crowd — not too much, but just enough that they get to know you. Hell, take the mic and actually be in the crowd during some songs. Treat crowd surfers like your friends, instead of annoyances. Let fans sing into the mic, from time to time. If you talk to the crowd, be funny. Don't be self conscious — at all. Oh–and be really, really good. F*cked Up do all of that, and all of that was on display this Thursday night. They treat their audience the way more bands ought to treat them — like friends, like part of the show (which in this band's case, they often are). However, F*cked Up have earned their considerable "crossover" (read: Pitchfork instead of punk set) audience (and their 2009 Polaris Prize) ultimately on the strength of their musicianship, the intensity of the band's delivery. This is the perfect band to see at Maxwell's, which already can feel like your private indie rock living room filled with a few friends. This show featured the band doing some great covers of the Sex Pistols' "Bodies" and Black Flag's "Nervous Breakdown" as well as songs from their excellent The Chemistry of Common Life and their singles comp, Couple Tracks. I recorded this set from back at the soundboard with a stereo board feed plus Beyerdynamic hypercardioid mics. The band did not do a soundcheck, so the listener may find the guitar is a touch lower in the mix than normal due to not being run through the board or PA.
Thanks to F*cked Up, and in particular Sandy Miranda, for permitting this recording, and to Maxwell's for the board feed. Also, as the band themselves asked the same, I encourage you in particular to purchase the band's $.99 benefit single, "Do They Know It's Christmas" which features several celebrity guests and benefits organizations working to bring an end to the epidemic of missing and murdered Aboriginal women in Canada. The track can be purchased (as Matador suggests) from iTunes here.
Enjoy!"
Direct download of MP3 files (HERE)
Download the Complete show in FLAC [HERE]
F*cked Up
2010-02-18
Maxwell's
Hoboken, NJ
An acidjack master recording
recorded and produced by acidjack
hosted at nyctaper.com
Equipment: Stereo soundboard feed + Beyerdynamic MC950 hypercardiods>Edirol R-44 (24/44.1)
Position: Clamp to back right of SBD cage, 9′ of height
Mastering: 2x24bit/44.1kHz WAV>Audacity (mixdown, set fades, tracking, amplify channels to -0.1dB>FLAC ( level 8 )
Setlist:
01 intro
02 Twice Born
03 David Comes to Life
04 banter
05 Hold It
06 Son the Father
07 Black Albino Bones
08 Crusades
09 banter
10 Mustaa Lunta
11 I Hate Summer
12 banter
13 Baiting the Public
14 No Epiphany
15 banter
16 David's Plan
17 Bodies (Sex Pistols)
18 banter
19 Police
20 encore break
21 Circling the Drain
22 Nervous Breakdown
If you email nyctaper for access to this recording, we expect that you will PLEASE SUPPORT F*cked Up, visit their blog, and purchase their official releases directly from their page at the Matador Records website [here].