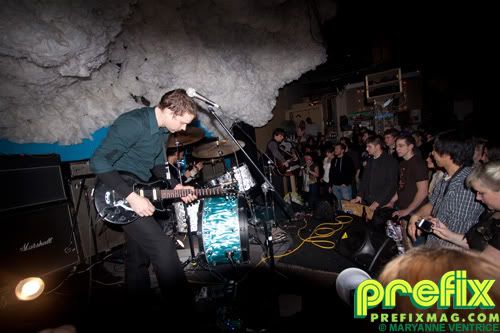 Acidjack reports:
"The last time we saw Secret Machines back in December was a strange night, with guitarist Phil Karnats stranded in Chicago, leaving drummer Josh Garza and vocalist/bassist Brandon Curtis a two-man act.  There were no such difficulties during TSM's set at Glasslands on Friday, where they closed out a five-band night with their monster sound. The setlist focused heavily on their latest self-released record, and veered from their heavy-hitting rockers to bluesier numbers like "The Walls Are Starting to Crack" and their slower numbers "I Never Thought to Ask" and "The Leaves are Gone" (both of which, unfortunately, proved a bit of a tough sell to a weary crowd at 1:30 a.m.).
I recorded this set with the DPA microphones clamped to the floor of the balcony, directly between the PA stacks.  The sound is excellent.  Enjoy!"
Download the MP3 and FLAC files and stream the entire show on the Live Music Archive [HERE]

The Secret Machines
2010-02-19
Glasslands
Brooklyn, NY
An acidjack master recording
Recorded and produced by acidjack
Hosted at nyctaper.com
Equipment: DPA 4021>Edirol R-44 (24/44.1)
Position: Clamp to center of balcony floor, DIN
Mastering: 24bit/44.1kHz WAV>Audacity (set fades, tracking, EQ, amplify each channel)>FLAC ( level 8 )
Setlist:
01 Like I Can
02 Atomic Heels
03 Terrible Light
04 I Never Thought To Ask
05 The Leaves Are Gone
06 Dreaming of Dreaming
07 The Walls Are Starting to Crack
08 The Road Leads Where It's Led
If you email nyctaper for access to this recording, we expect that you will PLEASE SUPPORT The Secret Machines, visit their website, visit their MySpace page, and purchase the latest TSM self-released CD by visiting the links at their website [here].