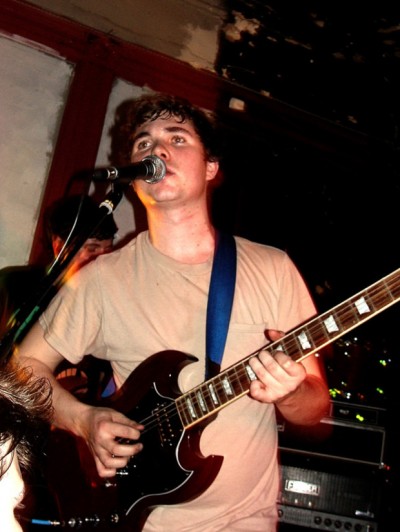 [photo by Ken Grand-Pierre – courtesy of The Tripwire]
"when did surfer blood blow up?" leiaj 11:18 PM Feb 27th via twitter
Good question. Back in October, Surfer Blood played in front of handfuls of people at CMJ. Even at the huge Market Hotel show curated by Pitchfork, the crowd was no more than thirty people during their afternoon set. However, in the months that followed the band released their anticipated debut album Astro Coast, Pitchfork gave it an 8.2 and "Best New Music" status, and things seem to be really taking off for the band. At their return to Market Hotel on Saturday night, Surfer Blood headlined an excellent bill and the place was absolutely packed to wall to wall. Somehow in the intervening four months, Surfer Blood seems older and wiser and definitely more relaxed. Their set on Saturday was all material from the debut album, but what set it apart was the fun the band was having with the crowd — enough so that a Weezer guitar tease gave way to an audience-led run through "Sweater Song". The band persisted through some technical problems to end the show with a crazy stage and audience jumping version of "Swim" where most of the vocals were sang while John was held aloft by the crowd.
We recorded this set with the Neumann microphones set up 20 feet from the far right PA. The board feed was mono signal that is very conservatively mixed with the audience recording. The technical problems during this night included some static in the bass guitar during the first song and quite a bit of vocal microphone distortion throughout. What results is a recording that very accurately reflects a show that was more about the fun than the sonic issues. Enjoy!
Direct download of MP3 files (HERE)
Download the Complete show in FLAC [HERE].
Surfer Blood
2010-02-27
Market Hotel
Brooklyn, NY USA
Digital Master Recording
Soundboard + Audience Matrix
Soundboard + Neumann KM-150s > Edirol R-44 (Oade Concert Mod) > 2 x 16bit 44.1kHz wav files > Soundforge (level adjustments, mixdown, set fades) > CDWave 1.95 (tracking) > Flac Frontend (level 7, align sector
boundaries) > flac
Recorded and Produced by nyctaper
2010-03-01
Setlist:
[Total Time 48:18]
01 Floating Vibes
02 [banter]
03 Take It Easy
04 [banter]
05 Harmonix
06 Twin Peaks
07 [banter – technical problems]
08 Fast Jabroni
09 [banter]
10 Anchorage
11 [banter]
12 Sweater Song [partial w/audience] (Weezer)
13 Catholic Pagans
14 [technical problems]
15 Swim
If you email nyctaper for access to this recording, we expect that you will PLEASE SUPPORT Surfer Blood, visit their MySpace page, and purchase their debut release Astro Coast on Kanine Records (here).