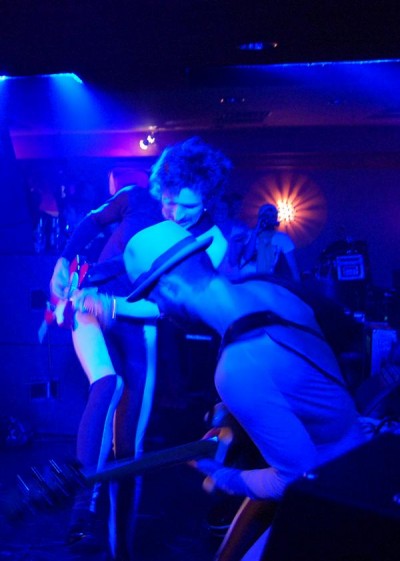 [photo from WMW MySpace page]
WhoMadeWho stole the show on Monday night at the BrooklynVegan Pre-SXSW show at Knitting Factory. At 11 p.m., the Danish dance/funk/electronica trio turned the machines on, started the beat, and never let up. The packed crowd by necessity opened up in the middle of the room for a make-shift dance floor, and it seemed like the only thing missing was a rotating mirror ball. For their part, WhoMadeWho exhibited a ton of energy and good humor from the stage — their songs can be both playful and dark at the same moment — so that the cycle of fun was complete. The band are in the US through the end of the week in Austin.
We recorded this set in the same location as the Wave Pictures recording and the sound quality is excellent. Enjoy!
Direct download of MP3 files (HERE)
Download the Complete show in FLAC [HERE].
WhoMadeWho
2010-03-15
Knitting Factory
Brooklyn, NY USA
Digital Master Recording
Soundboard + Audience Matrix
Soundboard + Neumann KM-150s > Edirol R-44 (Oade Concert Mod) > 2 x 16bit 44.1kHz wav files > Soundforge (level adjustments, mixdown, set fades) > CDWave 1.95 (tracking) > Flac Frontend (level 7, align sector boundaries) > flac
Recorded and Produced by nyctaper
2010-03-17
Setlist:
[Total Time 43:11]
01 Small Town City
02 [new song "Outside World"]
03 Space For Rent
04 Rose
05 [new song "Time"]
06 Keep Me In My Plane
07 [new song "Got To Get it Right"]
08 Satisfaction
If you email nyctaper for access to this recording, we expect that you will PLEASE SUPPORT WhoMadeWho, visit their website, visit their MySpace page, and purchase their official releases from the Gomma Records site [here].