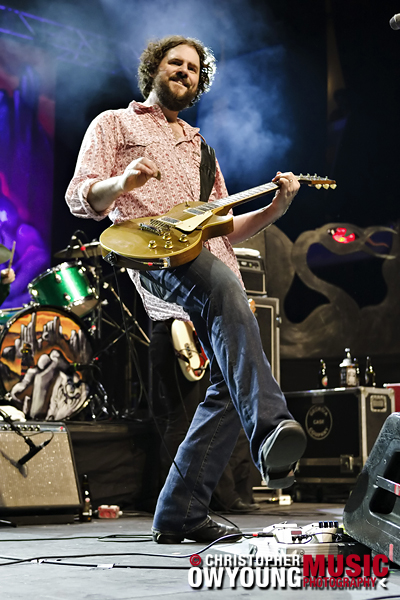 [Drive-By Truckers' Patterson Hood at the Terminal 5 show in 2008. Photo courtesy of One Louder Photo]
I have always been a little surprised by the mutual respect and admiration shown between the thoroughly Alabama-bred Drive-By Truckers and the fans of the NYC area.   Unfortunately, the years of suspicion and stereotypes between the South – particularly the deep South – and NYC aren't totally past tense, even in an age when you can actually get a decent biscuit and sawmill gravy within the five boroughs.  But like certain other of the South's best exports, New Yorkers seem to get the Truckers, partly because their music acknowledges and, in the best Southern tradition, celebrates many of their homeland's contradictions and frustrations.  On April Fool's Day the Truckers opted not to offer up any jokes or fake-outs, but drilled through a powerful set that showcased many songs from their brand-new The Big To-Do and a survey of their earlier classics like the heavy-hitters toward the end of the set, "Hell No, I Ain't Happy," "Lookout Mountain" and "Let There Be Rock".  Despite Webster Hall's "curfew" in order to start the venue's dance party, the band played for over two hours with few breaks in between songs.  NYC may be a long way from Muscle Shoals, but tonight, everyone fell under the sway of this timeless act's Southern charm.
I recorded this set with a four-microphone rig clamped to the balcony immediately to the right of the soundboard cage, with the two sets of mics at varied heights to capture both direct and ambient sound.   I am extremely happy with the results, and hope you are, too!  Enjoy!
This Recording is now available for Download in FLAC and MP3 at Archive.org [HERE].
Drive-By Truckers
2010-04-01
Webster Hall
New York, NY USA
An acidjack master recording
Recorded and produced by acidjack for nyctaper.com
Equipment: DPA 4021+Beyerdynamic MC950>Edirol R-44 (24/44.1)
Position: ROC (at right of board cage), DPA's at 8?, MC950's at 6?, DPAs DIN, MC950 pointed at stacks
Mastering: 2×24bit/44.1kHz WAV>Audacity (mixdown, slight EQ, set fades, tracking, smooth peaks, amplify each channel)>FLAC ( level 8 )
Tracks
01 intro
02 4th Night of My Drinking
03 Birthday Boy
04 Girls Who Smoke
05 Marry Me
06 Sink Hole
07 Drag the Lake
08 I Told You So
09 Get Downtown
10 This Fuckin' Job
11 Carl Perkins' Caddy
12 Living Bubba
13 One of These Days
14 Dead, Drunk & Naked
15 Guitar Man
16 Home Field Advantage
17 Wig He Made Her Wear
18 Self Destructive Zones
19 Hell No I Ain't Happy
20 encore break
21 Flying Wallendas
22 Zip City
23 Let There Be Rock
24 Lookout Mountain
25 People Who Died
If you email nyctaper for access to this recording we expect that you will PLEASE SUPPORT Drive-By Truckers, visit their website, and purchase their latest record, The Big To-Do directly from the band (including in lossless and MP3 digital formats) here.