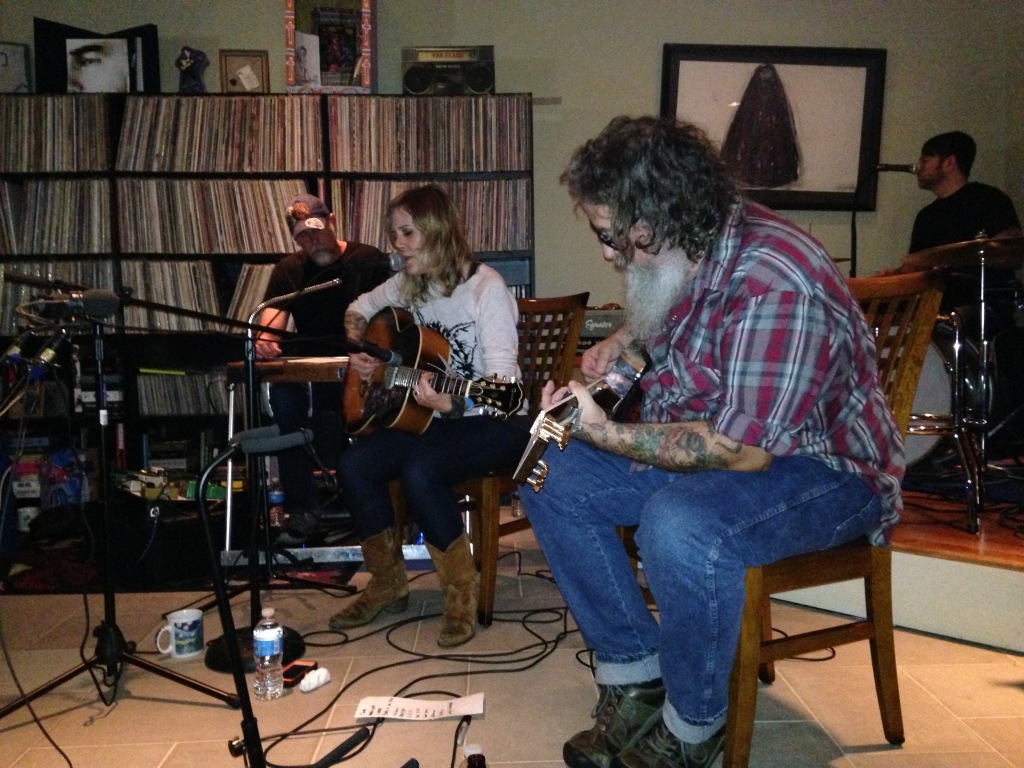 [photo by nyctaper]
The nights like this one are the ones to cherish. After Wussy's Friday show while I was breaking down equipment, I was invited to a private house concert by Wussy for the following night up in Larchmont in Westchester County. Fortunately, I had no plans so that I was able to take the quick drive up to attend and record this event. It was clear from the outset that this was going to be special as a spread of gourmet Indian food was presented to the band and all the guests. After setting up my equipment with the help of the band, all of the guests made it downstairs to a family room large enough to host a small concert. Lisa Walker and Chuck Cleaver played seated with Lisa on acoustic and Chuck on a steel guitar — or as Lisa called it "Campfire Wussy". The band also put together a very unique setlist including some Wussy Duo numbers, some deep cuts, and the first full band performance of an Ass Ponys track. And of course, the band spent much of the between-song banter as they often do, ribbing each other and telling amusing anecdotes. From my vantage point sitting less than ten feet from the band, it was truly a unique and special experience. We remarked that Friday's show featured a wonderful version of "Motorcycle", and Saturday's show featured a different arrangement that was equally breathtaking. That song is streaming below. Wussy will return to the NYC area on January 17 for gig at a venue that is not yet announced. See you then.
I recorded this set with the Schoeps cards positioned directly in front of the band. I also used a single DPA omni microphone and a single line out from the modest PA used to amplify the vocals and guitars. With the onstage Schoeps as the primary recording, I used the other sources to supplement the depth and also the vocals (upon which I applied some reverb). I'm quite pleased with the excellent results. Enjoy!
Stream "Motorcycle":

Download the Complete Show [MP3] / [FLAC]
Note: All of the material on this site is offered with artist permission, free to fans, at our expense. The only thing we ask is that you download the material directly from this site, rather than re-posting the direct links or the files on other sites without our permission. Please respect our request.
Wussy
2014-10-11
Private House Concert
Larchmont NY
Digital Master Recording
Soundboard + Audience Matrix
Soundboard [mono] + Schoeps CCM4u Cardioids + DPA 4061 (mono) > Edirol R-44 (Oade Concert Mod) > 2 x 24bit 48kHz wavs > Soundforge (level adjustments, mixdown, EQ, set fades) > CDWave 1.95 (tracking) > TLH > flac (320 MP3 and tagging via Foobar)
Recorded and Produced by nyctaper
Setlist:
[Total Time 1:01:52]
01 Little Paper Birds
02 [banter – Queensryche]
03 Motorcycle
04 [banter]
05 Pretty as You Please
06 [banter – rehearsal]
07 Crooked
08 Humanbrained Horse
09 [banter – Marshall Tucker]
10 Airborne
11 Acetylene
12 Donald Sutherland [Ass Ponys]
13 [banter – Duo]
14 Maglite
15 Gene I Dream
16 Halloween
17 [banter – false start]
18 Don't Leave Just Now
19 [encore break – thanks]
20 Loaded for Bear
If you download this recording, we expect that you will PLEASE SUPPORT Wussy, visit their website, and purchase their official releases from the Music link at their site [HERE] or from the Shake It Records website [HERE].