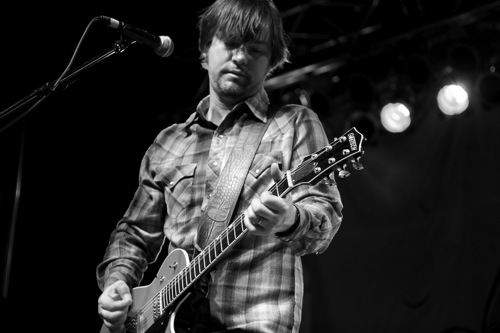 [photo courtesy of Aquarium Drunkard]
As one of the most accomplished songwriters of the last two decades, including his work with Uncle Tupelo, Son Volt, the recent collaboration with indie-darling Ben Gibbard, and his solo career, Jay Farrar has cached enough cred to deserve abundant respect. Last Friday at Maxwell's, that was sadly not the case. As this recording unfortunately details, the superb music emanating from the stage was seemingly mere background music to a social event. The unabashed high volume chatter at this show is simply an outrage — thoroughly disrespectful to this excellent artist and also to one of the metro area's greatest venues. If you can't shut up for 90 minutes, stay home.
In terms of the performance, for this tour Jay has been accompanied by multi-instrument virtuoso Mark Spencer. While the setlist is quite similar to the Son Volt show featured on nyctaper in September, Jay added a few more of the Big Sur numbers, performed a very special rare Uncle Tupelo number ("Still Be Around"), and encored a rocking Townes Van Zandt cover.
This show was recorded with acidjack's new Schoeps microphones at the front corner of the soundboard. While we often mix four channels of audience and soundboard at this venue, Jay's taping policy does not permit board feeds, so this is a straight audience recording that suffers from the obvious persistent and rude crowd chatter. There is also one brief battery-change splice in "Still Be Around". With those caveats, enjoy!
Stream Jay Farrar "Cocaine and Ashes" live at Maxwell's:
Audio clip: Adobe Flash Player (version 9 or above) is required to play this audio clip. Download the latest version here. You also need to have JavaScript enabled in your browser.
Direct download of MP3 files (HERE)
Download the Complete show in FLAC [HERE].
Jay Farrar
2010-06-04
Maxwell's
Hoboken, NJ USA
Digital Master Audience Recording
Recorded from Front and Center of Soundboard
Schoeps CMC6/MK41 > Naiant Littlebox > Sony PCM-M10 > 24bit 44.1kHz wav file > Soundforge (level adjustments, close clapping reduction, mixdown, set fades) > CDWave 1.95 (tracking) > Flac Frontend (level 7, align sector boundaries) > flac
Recorded by acidjack
Produced by nyctaper
2010-06-08
Setlist:
[Total Time 1:31:05]
01 Down To The Wire
02 The Picture
03 Feel Free
04 When The Wheels Don't Move
05 Cocaine and Ashes
06 Dust of Daylight
07 Pushed Too Far
08 No Turning Back
09 Big Sur
10 Methamphetamine
11 Strength and Doubt
12 San Francisco
13 Dynamite
14 Bandages & Scars
15 Breathe Our Iodine
16 Tear Stained Eye
17 Damn Shame
18 Still Be Around
19 Windfall
20 Afterglow 61
21 [encore break]
22 White Freightliner Blues (Townes Van Zandt)
If you email nyctaper for access to this recording, we expect that you will PLEASE SUPPORT Jay Farrar, visit his website, and purchase his official releases directly from the Jay Farrar Official Store [HERE].