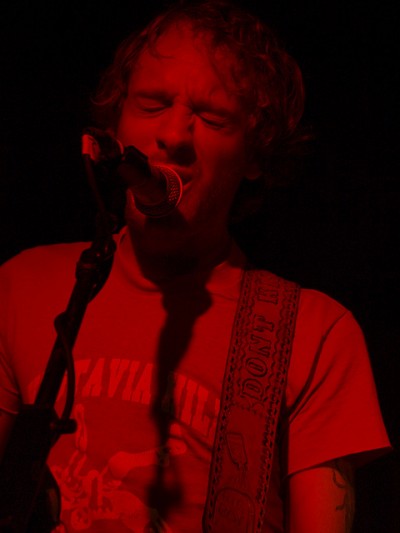 [photo by Abby Resko – more here]
In 2008, Deer Tick appeared three times on nyctaper. As the leader of the trio, John McCauley was always an engaging presence and it was hard not to both root for Deer Tick's success and predict its inevitable realization. Now two years down the road, Deer Tick has weathered a few personnel changes, released three excellent albums, sold out mid-major venues, appeared on Letterman, and chuckled at the folly of web backlash. At a sold out Maxwell's on Monday night, the current quintet rocked harder and longer than the early years, but Deer Tick has lost absolutely none of its charm or its authenticity. The set picked equally from each of the three albums, but also featured several new numbers, the strongest of which ("Make Believe" and "Bury Deep") represent a continued migration from americana-folk to honky-tonk in the band's sound. To conclude the set, the band pulled out all the bar-band stops with two crazy covers — ZZ Top ("Cheap Sunglasses") and Marvin Gaye ("Let's Get it On") before finishing with a lengthy feedback-drenched "Mange".
I recorded this set with the Neumann microphones at the front corner of the soundboard booth and mixed with a board feed. The sound quality is excellent. Enjoy!
Stream "Twenty Miles":
[audio:http://www.nyctaper.com/D4545DeerTick3030/08%20DeerTick2010-07-19_nyctaper_t08.mp3]
Direct download of complete show in MP3 files (HERE)
Download the Complete show in FLAC [HERE].
Deer Tick
2010-07-19
Maxwell's
Hoboken, NJ USA
Digital Master Recording
Soundboard + Audience Matrix
Soundboard + Neumann KM-150s > Edirol R-44 (Oade Concert Mod) > 2x 24bit 48kHz wav files > Soundforge (level adjustments, mixdown, set fades) > CDWave 1.95 (tracking) > Flac Frontend (level 7, align sector boundaries) > flac
Recorded and Produced by nyctaper
2010-07-22
Setlist:
[Total Time 1:35:12]
01 Smith Hill
02 [banter]
03 Spend The Night
04 Me Me Me (MG&V)
05 Hope is Big (new song)
06 Baltimore Blues No. 1
07 Something To Brag About (new song)
08 Twenty Miles
09 When She Comes Home
10 [banter]
11 Maybelline (Chuck Berry)
12 Make Believe (new song)
13 Bury Deep (new song)
14 [banter]
15 Choir of Angels [false start]
16 Choir of Angels
17 [banter]
18 Ashamed
19 Houston, TX
20 I'm Gonna Learn To Fly An Airplane (with Johnny Corndawg)
21 Dirty Dishes
22 [tuning + Tequila]
23 [new song]
24 Cheap Sunglasses (ZZ Top)
25 [encore break]
26 Let's Get it On (Marvin Gaye)
27 Mange
If you email nyctaper for access to this recording, we expect that you will PLEASE SUPPORT Deer Tick, visit their website, visit their myspace page, and purchase their official releases from the Partisan Records Store [HERE].