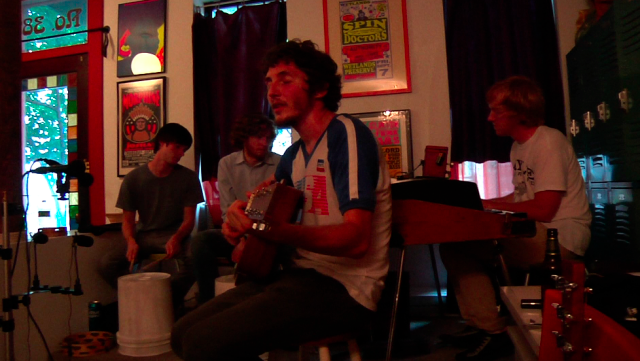 [screencap by Eric Horn]
The third session of the Backyard Brunch series moved indoors and began with an opening set by Courtesy Tier (here). The featured band was Person L, which is the newest musical project from Kenny Vasoli, who spent ten years as the lead singer of the popular major label pop-punk band The Starting Line. While Person L definitely is a departure for Vasoli, the band still relies heavily on his powerful vocals and meticulous songcraft. From ten feet away in a cozy living room, Kenny's compelling presence demanded attention as the band worked through a short set of their best songs in an acoustic format. The highlights of the performance included "Goodness Gracious" (streaming below) and set closer "Untitled", both tracks from their excellent 2009 release The Positives.
We recorded this set with four microphones placed strategically among the band members and the sound quality is outstanding. Enjoy!
Stream "Goodness Gracious":
[audio:http://www.nyctaper.com/P1070PersonL2010/05%20PersonL2010-07-10_nyctaper_t05.mp3]
Direct download of complete show in MP3 files (HERE)
Download the Complete show in FLAC [HERE].
Person L
2010-07-10
Backyard Brunch Sessions
Brooklyn, NY USA
Four-Track Digital Master Recording
Recorded from Onstage
Neumann KM-150s + DPA 4021's > Edirol R-44 (Oade Concert Mod) > 2x 24bit 48kHz wav files > Soundforge (level adjustments, mixdown, set fades) > CDWave 1.95 (tracking) > Flac Frontend (level 7, align sector boundaries) > flac
Recorded and Produced
by nyctaper
2010-07-22
Setlist:
[Total Time 35:04]
01 [introduction]
02 House Sounds
03 New Sensation
04 Good Days
05 Goodness Gracious
06 [banter]
07 Sit Tight
08 [banter/equipment]
09 Storms
10 [banter/thanks]
11 Untitled
If you email nyctaper for access to this recording, we expect that you will PLEASE SUPPORT Person L, visit their MySpace page, and purchase The Positives from the Academy Fight Song Records website [HERE].