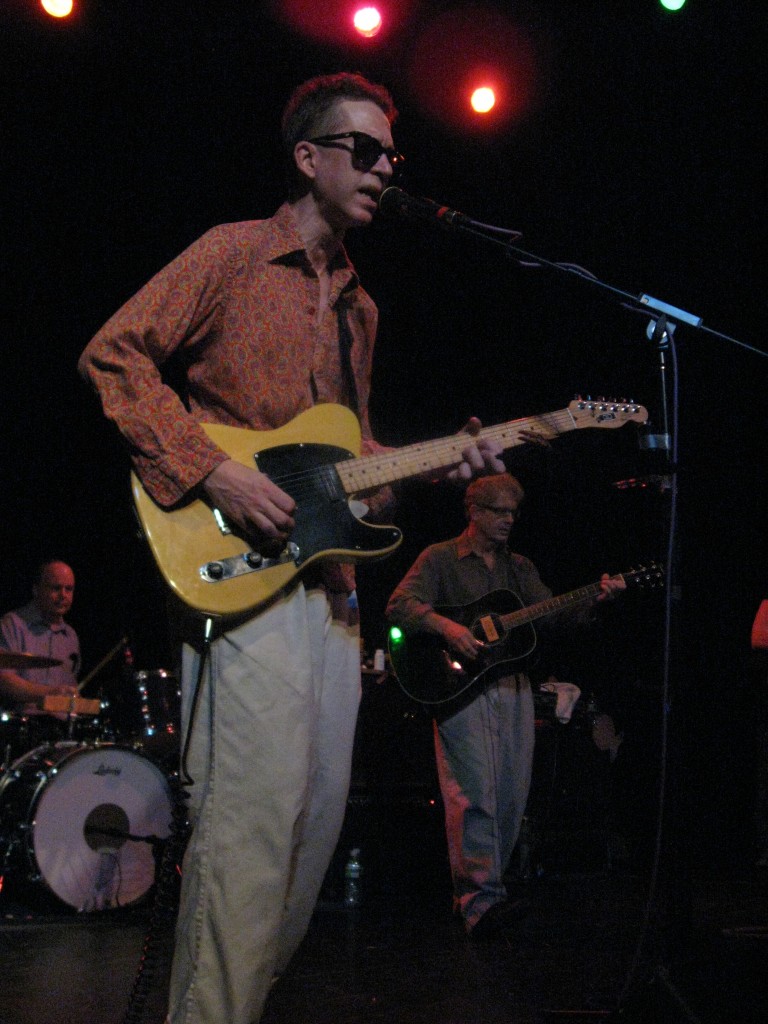 [photo by mikeL]
Last week, The Feelies played their now regular July 4th shows at Maxwell's and we missed them for the second year in a row due to a vacation. There are some decent photos of last week's gigs here, and a review here. Although we caught one of the shows in 2008 (here), I guess we kind of feel like we let down the Feelies fans who come to nyctaper for recordings of their shows (we've done six). So, I've decided to dig into the vault for a little treat from last year. In September of 2009, The Feelies played a mini three-show "tour", which included ATP, a show at the Bearsville Theatre, and a show at Southpaw (on nyctaper here). The ATP recording popped up on Dimeadozen, and we covered the Southpaw night, but until now no recording of the Woodstock show had appeared. A short while ago, the prolific East coast taper mikeL sent us this recording so that we could offer it to our readers.
Mike recorded the set with a pair of Audio Technica 825s set up fifteen feet from the stage and the result is a recording of great clarity and presence. Enjoy!
Stream "Boxcars" [REM cover]:
Audio clip: Adobe Flash Player (version 9 or above) is required to play this audio clip. Download the latest version here. You also need to have JavaScript enabled in your browser.
Direct download of complete show in MP3 files (HERE)
Download the Complete show in FLAC [HERE].
The Feelies
2009-09-12 Bearsville Theater Bearsville NY
aud-1 : AT825 > D-7 (line in) > DATM >> RMR-D110 > D7 > DAT-1 (added track IDs on DAT-1) >> RMR-D100 > optical > HHB830 > CDRM > iTunes> AIFF > xACT > FLAC
recorded 15ft stage left center (between left stack and left of stage), 6ft stand
first set/disc 1 (35:51)
01. when company comes
02. bluer skies
03. egyptian reggae [richman]
04. the undertow
05. sunday morning
06. invitation
07. nobody knows
08. the high road
09. on the roof
10. lets go
second set/disc 2 (1:18:06)
01. barstool blues (neil young)
02. deep fascination
03. higher ground
04. the final word
05. slipping (into something)
06. time is right
07. away
08. original love
09. too far gone
10. raised eyebrows
11. crazy rhythms
12. – crowd
13. doin' it again
14. boxcars (carnival of sorts) [buck/stipe/mills/berry]
15. i wanna sleep in your arms [richman]
16. – crowd
17. take it easy baby [morrison]
18. sooner or later
19. – crowd
20. outdoor miner [wire]
21. paint it black [jagger/richard/jones]
22. – crowd
23. she said she said [lennon]
24. fa ce-la
25. – outro
recording and post-production by mL
If you email nyctaper for access to this recording, we expect that you will PLEASE SUPPORT The Feelies, visit their MySpace page, and purchase the new reissues of Crazy Rhythms and The Good Earth directly from the Bar None website [HERE].